Maddy Yip's Guide to Life by Sue Cheung – Book Review
Maddy Yip's Guide to Life by Sue Cheung – Book Review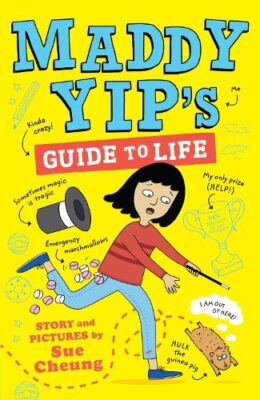 Maddy Yip's Guide to Life
Author – Sue Cheung
Publisher – Andersen Press
Pages – 256
Released – 5th August 2021
ISBN-13 – 978-1839130496
Format – ebook, paperback
Rating – 4 Stars
I received a free copy of this book.
This post contains affiliate links.


Synopsis
A madcap new story from Sue Cheung, winner of the Diverse Book Award, filled with belly-laughs and packed with drawings! Perfect for fans of Tom Gates and Sam Wu.
Maddy Yip is perfectly happy in life, until she realises that everyone she knows has a talent – except for her! Maddy is determined to change that, with the help of her brothers, bewildered grandad and her best friend Dev. There are disastrous attempts at breakdancing and playing the recorder, revolting cakes, and a magic disappearing trick that ends up with an escaped guinea pig. Will Maddy ever find her true calling?
Maddy Yip is a young girl who comes from a family of talented people. They have a trophy cabinet but there are none of hers in it. She decides that she is going to discover what she is good at and set out with her best friend Dev to try different things until she finds one she excels at.
Maddy Yip's Guide to Life is a fun middle-grade novel that contains plenty of hilarious and often slap-stick moments as Maddy tries to discover what her very hidden talent could be. It has amazing, funny illustrations throughout and each chapter is a different day in her life, though it is not in diary format.
When I first started the book I wasn't sure I was going to enjoy it as the first chapter didn't grab me. I don't fully understand why, I am used to reading middle-grade books so the age thing shouldn't have been an issue but it came across as Maddy was a lot younger than she is in the first chapter and there was nothing in the plot to make me want to continue, yet as I was reviewing the book I did. It would seem it is just the first chapter that is the issue as after that I enjoyed it immensely and flew through the pages.
The story is a lot of fun and the pace felt fast throughout. It is filled to the brim with amusing moments and characters, including Maddy's Grandfather who eats coasters. It has lots of action, mainly failed talent attempts, but action nonetheless.
After the success of her previous novel 'Chinglish' which I adored, author Sue Cheung has written another amazing children's book that I can see kids giggling along with, and quite possibly trying out some of the 'talents' for themselves.
Purchase Online From:
---
What did you think of 'Maddy Yip's Guide to Life'?
---
The above links are affiliate links. I receive a very small percentage from each item you purchase via these links, which is at no extra cost to you. If you are thinking about purchasing the book, please think about using one of the links. All money received goes back into the blog and helps to keep it running. Thank you.
Like us on Facebook – Tweet us on Twitter – Pin us on Pinterest – Join us on Instagram