Twitch by M. G. Leonard – Book Review
Twitch by M. G. Leonard – Book Review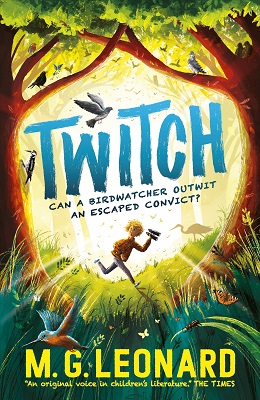 Twitch
Author – M. G. Leonard
Publisher – Walker Books
Pages – 304
Released – 3rd June 2021
ISBN-13 – 978-1406389371
Format – ebook, paperback, audio
Rating – 4 Stars
I received a free copy of this book.
This post contains affiliate links.


Synopsis
Can a birdwatcher outwit an escaped convict?
Twitch has three pet chickens, four pigeons, swallows nesting in his bedroom and a passion for birdwatching. On the first day of the summer holidays, he arrives at his secret hide to find police everywhere: a convicted robber has broken out of prison and is hiding in Aves Wood. Can Twitch use his talents for birdwatching to hunt for the dangerous prisoner and find the missing loot?
Twelve-year-old Corvus Featherstone or Twitch as he is known is a nature lover, especially birds. He has lots of birds including a pigeon family that he is trying to train the young to be homing pigeons.
Twitch enjoys spending time with his bird friends far more than human ones, which makes him an easy target for the school bullies. His favourite place to watch the birds is in Aves Woods but on the first day of the school holidays, the place is crawling with police.
A dangerous criminal, Robber Ryan, has escaped from a nearby prison and was last seen nearby the woods. The rumours grow that Ryan hid his five-million robbery money in the woods and he is looking to retrieve it.
The woods is a vast land and Twitch knows the area like no other. Can he help catch Ryan?
Twitch is a fun adventure middle-grade book featuring a wonderful young lad who has found his passion in life, birds. He loves looking after them, watching them and he wants to work with them when he is older. He has a good head on his shoulders, is caring, loyal, and helpful.
Twitch has a good relationship with the older people in his life including his mother, newsagent, neighbour, and newcomer to town Billie. He doesn't have a good relationship with his peers though who just see him as this weird kid they can easily bully.
The plot is fast-paced, easy to read, and enjoyable. It is filled with exciting scenes and scenes that show how the power of nature can be uplifting and is also vitally important. It will hopefully make the reader understand birds more and enjoy them nearly as much as Twitch does.
Purchase Online From:
---
What did you think of 'Twitch'? Share your thoughts in the comment section below!
---
The above links are affiliate links. I receive a very small percentage from each item you purchase via these link, which is at no extra cost to you. If you are thinking about purchasing the book, please think about using one of the links. All money received goes back into the blog and helps to keep it running. Thank you.
Like us on Facebook – Tweet us on Twitter – Pin us on Pinterest – Join us on Instagram