Swim, Shark, Swim! by Dom Conlon – Book Review
Swim, Shark, Swim! by Dom Conlon – Book Review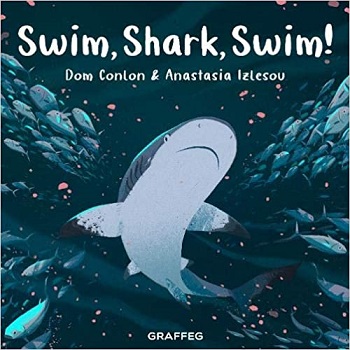 Swim, Shark, Swim!
Author – Dom Conlon
Illustrator – Anastasia Izlesou
Publisher – Graffeg Limited
Pages – 36
Released – 23rd February 2021
ISBN-13 – 978-1914079054
Format – ebook, paperback
Rating – 4 Stars
I received a free copy of this book.
This post contains affiliate links.


Synopsis
Swim around the world with Shark as he explores ocean forests and coastal reefs, meeting Hammerheads and Great Whites, stingrays and dolphins in a search for the place he calls home.
This is the second book in the Wild Wanderers series written by Dom Conlon and illustrated by Anastasia Izlesou.
Some of the species covered include: Blacktip reef shark, Tiger shark, Humpback whale, Bottlenose dolphin, Great white shark and many more.
Swim Shark, Swim! is a mesmerising tale following a Blacktip reef shark as he swims the seas and encounters other sharks and sea creatures along his journey. The story is beautifully told with glorious illustrations on each page that bring the ocean and its family to life.
Children not only get to follow the shark on his journey but they also will find that they discover and learn information about sharks that they might not have come across before, thus educating them whilst enthralling them in a wonderful story.
The text is very poetic and easy to read – 'They are sandy-slinkers, ocean-drinkers and our shark could swim by to say hi but a hurricane winds above like a clock and shark has no time to waste' and these words are encased by the darkness of the sea illustrations give the book an inviting pull.
This is a book that will take the reader on an adventure as they have never been on before. I can't say I have come across a book like this before. It was a joy to read and to look at.
Hopefully Swim, Shark Swim! will be a big hit with children.
Purchase Online From:
---
What did you think of 'Swim, Shark, Swim!'? Share your thoughts in the comment section below!
---
The above links are affiliate links. I receive a very small percentage from each item you purchase via these link, which is at no extra cost to you. If you are thinking about purchasing the book, please think about using one of the links. All money received goes back into the blog and helps to keep it running. Thank you.
Like us on Facebook – Tweet us on Twitter – Pin us on Pinterest – Join us on Instagram