Wiggly Wiggly by Michael Rosen – Book Review
Wiggly Wiggly by Michael Rosen – Book Review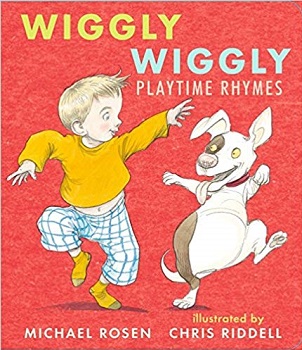 Wiggly Wiggly
Playtime Rhymes
Author – Michael Rosen
Illustrator – Chris Riddell
Publisher – Walker Books
Pages – 20
Released – 2nd August 2018
ISBN-13 – 978-1406384246
Format – board book
Reviewer – Stacey
Rating – 4 Stars
I received a free copy of this book
Post contains affiliate links.
A board-book collection of action rhymes from not one but two Children's Laureates. Join a band of mischievous monkeys, tigers, lions, elephants and bears as they tippy-tap, boing-boing, wiggle-wiggle and wave hello – and goodbye!
The most energetic poems from the award-winning anthology A Great Big Cuddle have found the perfect new home in this friendly format. Michael Rosen has adapted his rhymes so that even the very littlest readers can join in; Chris Riddell's vibrant, extraordinary pictures fizz off the page. Pairing two of the biggest names in the world of children's books, Wiggly Wiggly is a small book that contains a lot of action!

Two of the biggest names in children's books, Michael Rosen (We're Going on a Bear Hunt) and Chris Riddle (Ottoline series) have joined forces for this book, Wiggly Wiggly: Playtime Rhymes. A young children's rhyming book that will see kids wanting to be like the animals.
The book features different animals from Monkeys to a Panda, Crocodile to an Elephant, there are lots of animals in this book all having a great time with silly rhymes to go with them.
The illustrations are just beautiful and bring the book to life. Little children will be able to see exactly what each of the animals is doing.
Being a board book it is sturdy and not easy to rip so little children can have lots of fun with it without the need to worry they will ruin it. The words are also repeated over and over so new, or just learning readers, will be able to visualise the words and remember them.
The book is quite literally nonsense but it is fun nonsense which I am sure little children will love.
Reviewed by Stacey
---
Purchase online from:
---