Fletcher and the Rockpool by Julia Rawlinson – Book Review
Fletcher and the Rockpool by Julia Rawlinson – Book Review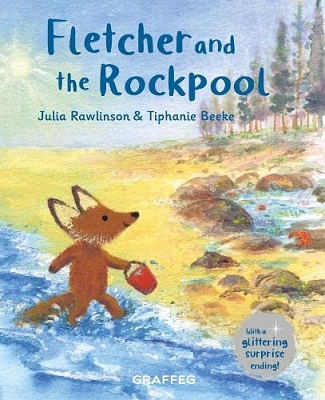 Fletcher and the Rockpool
Author – Julia Rawlinson
Illustrator – Tiphanie Beeke
Publisher – Graffeg Limited
Release Date – 9th June 2022
Pages – 32
ISBN 13 – 978-1914079320
Format – ebook, hardcover
Star Rating – 4
I received a free copy of this book.
This post contains affiliate links.

Synopsis
When Fletcher tumbles happily onto the beach he is dazzled by the sun, sea and space. He soon finds a rockpool full of new friends… but as the sea disappears, they are stranded! Fletcher rushes to the rescue and manages to scoop up Little Crab… but do Fletcher's new friends really need rescuing? Explore the glittering world beyond Fletcher's wood in this heart-warming summer story.
Fletcher is visiting the seaside when he comes across a rockpool. He loves watching the sea creatures within but gets worried when the water starts to disappear, what will happen to his new friends and how can he save them?
Fletcher and the Rockpool is another lovely book in the Fletcher the Fox series, the books all have an old-fashioned quality to them and remind me of the stories I read as a child.
The illustrations have a crayon effect to them and are beautiful to look at. The story is quite adorable and I can imagine children having the same thoughts about rockpools when the water recedes and becoming worried about the creatures within.
If you are looking for a wholesome, sweet read to share with your children/guardians then this is the one to pick up.
---
Purchase Online:
Julia Rawlinson

I grew up in London, close to Richmond Park – a beautiful deer park big enough to get lost in, where I got to know lots of the characters who have since popped up in my stories and poems.
I have always loved writing – I enjoy the sound and rhythm of words, and many of my poems for children have been published in anthologies. My One Week of Poems series of short ebooks covers Christmas, dinosaur, garden, space, football and spooky poems, which are gathered together in the One Week of Poems Box Set. The most recent books in the series are One Week of Seaside Poems and One Week of Pirate Poems.
When I had my children I started writing stories for picture books, and my first book, Fred and the Little Egg, was published in 2005. Since then I have written lots of stories about animals including rabbits, mules, dragons, hedgehogs, squirrels, mice and a kind-hearted but easily confused fox.
I have been lucky enough to work with some wonderful illustrators, and my books have been published in many languages.
Author Links:
---
The above links are affiliate links. I receive a very small percentage from each item you purchase via these links, which is at no extra cost to you. If you are thinking about purchasing the book, please think about using one of the links. All money received goes back into the blog and helps to keep it running. Thank you.