Fletcher and the Rainbow by Julia Rawlinson – Book Review
Fletcher and the Rainbow by Julia Rawlinson – Book Review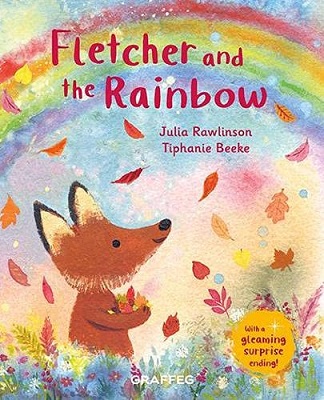 Fletcher and the Rainbow
Author – Julia Rawlinson
Illustrator – Tiphanie Beeke
Publisher – Graffeg Limited
Pages – 32
Released – 26th August 2021
ISBN-13 – 978-1914079245
Format – ebook, hardcover
Rating – 5 Stars
I received a free copy of this book.
This post contains affiliate links.


Synopsis
When Fletcher sees a dazzling rainbow, he is determined to help it shine forever. Guided by his friends, he chases it through the dripping wood… but the rainbow soon starts to fade.
Once the last scrap of colour is gone, Fletcher feels he has failed – until he realises something wonderful! Join Fletcher and his friends as they celebrate the glorious colours of autumn in this uplifting story of hope.
One autumn day the clouds were dark and the rain came pouring, then the sun appeared bringing with it a beautiful rainbow. Fletcher the Fox had never seen anything so beautiful and decided he needed to find it and help it shine forever.
He went through the woods, past the apple trees, and headed to the stream where it looked like it was being washed away. There Goose told him to have a look near the rabbit's burrow as that is where it ended. But Fletcher was too late, the rainbow had disappeared, but then he had an amazing idea how he could bring the rainbow back to life.
Fletcher and the Rainbow is the sixth book in a series all about Fletcher the Fox, I recently reviewed another in the series, Fletcher and the Caterpillar.
I love how adorable Fletcher is and how caring and passionate he feels about life and nature. The illustrations throughout are truly spectacular with some pages representing the clouds and bad weather being dark and others featuring the rainbow being bright and cheery. There is even a page that glimmers.
The plot is really beautiful and I know lots of children that are fascinated by rainbows and wish they would stay forever to brighten up the sky. This book will give them the imagination to create their own. The book is completely joyful and captivating. I'm sure it will be a big hit with youngsters, and parents/guardians too.
Purchase Online From:
---
What did you think of 'Fletcher and the Rainbow'? Share your thoughts in the comment section below!
---
The above links are affiliate links. I receive a very small percentage from each item you purchase via these links, which is at no extra cost to you. If you are thinking about purchasing the book, please think about using one of the links. All money received goes back into the blog and helps to keep it running. Thank you.
Like us on Facebook – Tweet us on Twitter – Pin us on Pinterest – Join us on Instagram