The Epic of Gabriel and Jibreel by Marin – Book Review
The Epic of Gabriel and Jibreel by Marin – Book Review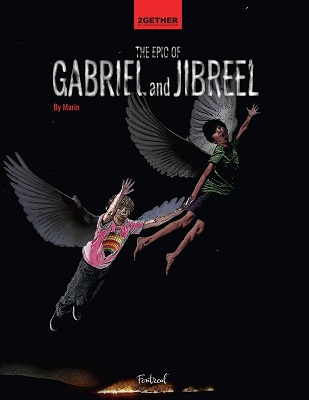 The Epic of Gabriel and Jibreel
A Cautionary Tale of Ultimate Friendship
Author – Marin
Publisher – Fontreal
Pages – 32
Released – 19th November 2020
ISBN-13 – 978-1775378723
Format – ebook, paperback, audio
Rating – 3 Stars
I received a free copy of this book.
This post contains affiliate links.


Synopsis
The Epic of Gabriel and Jibreel is a cautionary tale of the ultimate friendship. It is a heartbreaking story of two boys, a refugee, and a child from a wealthy suburb.
Gabriel lives with his father in a large house surrounded by other large houses. One day while exploring the beach, Gabriel meets Jibreel. Jibreel lives with his father in the upside-down boat that brought them across the sea. With similar stories of devastating loss, yet joyful dreams, and a love for flying, the boys form an incredible and indestructible friendship.
This is an excruciating story – a children's picture book with a powerful message that is worth hearing.
Gabriel is from a well-off family, he lives in a big house with a father, his mother died the day he was born. His father rarely notices or interacts with his son, he also doesn't like people who are not like them.
Jibreel is a refugee living in a self-made house on the beach with his father, his mother died when they were crossing the ocean and their boat capsized. His father works 7 days a week to keep them both fed.
One day the boys meet and through a love of the beach and aircraft, they become firm friends, but with them both being from different cultures and backgrounds they keep their relationship a secret.
Having read author Marin's book 'Twas the Night back in July which was about dreams and reality mixing I was looking forward to reading this book. I have to say the two are very different in both the messages they are trying to get across and their illustrations. Whereas in 'Twas the Night the message and moral of the story came across strong, this book I have a feeling what its message is, but I'm not 100%.
The only thing that kept on repeating itself in the book was the quote 'Life isn't Fair' whether you are rich or poor, which judging by the age the book is aimed at I'm not sure this is a great message to share without adding more. Yes, life isn't fair but that does not mean we have to accept it. Children should be encouraged that they can help to make a change. It is like saying to someone you live on a council estate, your parent(s) are working-class so you shouldn't try to get yourself a good education and become that lawyer you have always dreamt of becoming. Life is what you make it!
I'm also not a fan of the ending, I can't really say too much without giving away the plot but I understand children need to realise the horrors and sadness in the world but not like this.
Having said the above, the book also deals with cultures coming together, refugees, friendship, and imagination. The full-page artwork is amazing throughout. Just a pity I didn't enjoy it more, I think the author and I have very different views on life.
Purchase Online From:
---
What did you think of 'The Epic of Gabriel and Jibreel'? Share your thoughts in the comment section below!
---
The above links are affiliate links. I receive a very small percentage from each item you purchase via these links, which is at no extra cost to you. If you are thinking about purchasing the book, please think about using one of the links. All money received goes back into the blog and helps to keep it running. Thank you.
Like us on Facebook – Tweet us on Twitter – Pin us on Pinterest – Join us on Instagram