Rabunzel by Gareth P. Jones – Book Review
Rabunzel by Gareth P. Jones – Book Review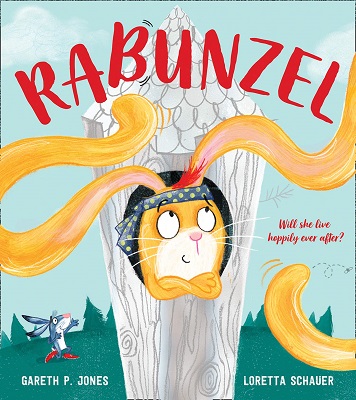 Rabunzel
Author – Gareth P. Jones
Illustrator – Loretta Schauer
Publisher – Egmont
Pages – 32
Released – 18th February 2021
ISBN-13 – 978-1405298582
Format – paperback
Rating – 5 Stars
I received a free copy of this book.
This post contains affiliate links.


Synopsis
"Rabunzel, Rabunzel, let down your ears!…"
Rabunzel has a teeny tufty tail, a twitchy nose and two wide brown eyes. She also has VERY long ears – so long that her mother worries they will make her easy bait for the hungry creatures of the forest.
The answer? Rabunzel must be kept safe … in towering hutch, high in the sky. Here Rabunzel waits grumpily for her mother's daily visit with carrots and fresh lettuce, letting down her ears so she can climb up the tower.
But one day, it isn't her mother who climbs up Rabunzel's very long ears…
A fearless, fun-filled fairy tale – perfect for any little reader who loves a twist in the tale!
Are you looking for a fairy tale that teaches children not to wait to be rescued by a knight in shining armour, but to be fearless and brave? Well, look no further, Rabunzel is here!
Just like in the original tale of Rapunzel, Rabunzel has been sent to live in a tall tree (not a tower) alone, away from her friends and family because of her golden ears that are very long and make her an easy target for the hungry-eyed creatures who lived in the forest and would like to eat her.
Rabunzel is shut away for months with just her mother coming to see her daily to bring carrots and water, that is until Harry Hare sees her and thinks she needs rescuing. Oh, is everyone in for a surprise as Rabunzel has had enough of being vulnerable and lonely, it is time to take matters into her own bunny paws.
I loved this book. It was enjoyable, had amazing full-page, colourful artwork throughout that captured the plot perfectly, especially the expressions of the characters, and was so joyful to read. Plus, who wants a brave knight these days anyway, females (including bunnies) are capable of looking after themselves, thank you very much!
The book was truly delightful to read and I can see it becoming a firm favourite. It was refreshing to see a fairy tale where the female lead didn't need a man to save her. The plot was humorous at times and I can see it giving the reader a giggle. This would make a fabulous bedtime story or even a class read.
Purchase Online From:
---
What did you think of 'Rabunzel'? Share your thoughts in the comment section below!
---
The above links are affiliate links. I receive a very small percentage from each item you purchase via these link, which is at no extra cost to you. If you are thinking about purchasing the book, please think about using one of the links. All money received goes back into the blog and helps to keep it running. Thank you.
Like us on Facebook – Tweet us on Twitter – Pin us on Pinterest