I Love Mummy Every Day by Isabel Otter – Book Review
I Love Mummy Every Day by Isabel Otter – Book Review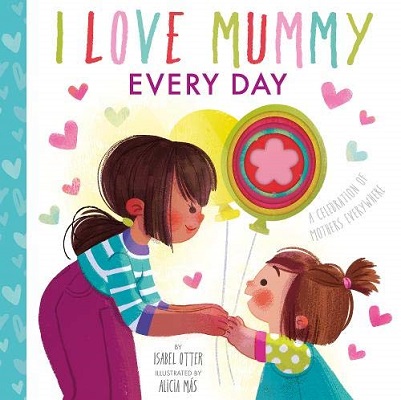 I Love Mummy Every Day
Author – Isabel Otter
Illustrator – Alicia Más
Publisher – Caterpillar Books
Pages – 20
Released – 4th February 2021
ISBN-13 – 978-1838912789
Format – Board Book
Rating – 4 Stars
I received a free copy of this book.
This post contains affiliate links.


Synopsis
Mums are amazing! Mummy can bring a smile to your face, smooth away your worries and take you on great adventures. She is special in so many ways! How do you show Mummy that you love her every day?
I Love Mummy Every Day is a young children's board book about children appreciating their mums for the things they do such a play with them or give them cuddles.
The book is very short at just 20 pages long but long enough to keep little ones interested. Being a board book it also isn't easily destroyed, so whilst they might not be able to read it to themselves, children can play with the book and look at the illustrations of all the mums with their sons or daughters, without you worrying that they will rip it or it becoming unreadable.
It is brightly coloured with amazing illustrations that draw the eye and hopefully children will enjoy looking at the different families. It also has a circular cut-out section on each page that gets smaller as you go through the book.
My only little niggle was some of the wording, such as 'Mummy is my anchor'. I doubt that young children will understand what this means, especially given that the book is aimed at children aged between 1-5, and they possibly won't appreciate the full meaning of the phrase even when told what it means.
Overall it is a sweet adorable book that is filled with happiness and a joyful celebration of mums.
Purchase Online From:
---
What did you think of 'I Love Mummy Every Day'? Share your thoughts in the comment section below!
---
The above links are affiliate links. I receive a very small percentage from each item you purchase via these link, which is at no extra cost to you. If you are thinking about purchasing the book, please think about using one of the links. All money received goes back into the blog and helps to keep it running. Thank you.
Like us on Facebook – Tweet us on Twitter – Pin us on Pinterest