Ned the Nuclear Submarine by Demetri Capetanopoulos – Book Review
Ned the Nuclear Submarine by Demetri Capetanopoulos – Book Review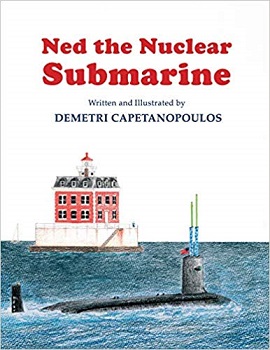 Ned the Nuclear Submarine
Author – Demetri Capetanopoulos
Publisher – Proving Press
Pages – 36
Released – 18th December 2018
ISBN-13 – 978-1633372382
Format – ebook, paperback, hardcover
Review by – Stacey
Rating – 3.5 Stars
I received a free copy of this book.
This post contains affiliate links.
Ned the Nuclear Submarine is a story about overcoming fears, both real and imagined, to enable discovery and growth.
Seldom featured in a children's book, the fascinating world of a submarine is introduced in a way that is both realistic and yet accessible, drawing upon my personal experiences as a U.S. Navy Submarine Officer.
We journey with Ned on an epic voyage around the world that unfurls in rhyme, with true-to-life images and events taken from history.

This has been a really hard review to write, I've chopped and changed it numerous times as I wasn't sure what to write. Ned the Nuclear Submarine is an interesting short children's book however, I have failed to work out what age it is for. Younger children won't understand the information, nor want to read all the text (there is a lot) in the book. Older children may find that the book looks too young for them, especially with bright colourful large illustrations on each page, hence I can't place it.
The book is about a nuclear submarine that is nervous as he is planning and getting ready to travel the world for the first time. It's a book about overcoming your fears and embracing life. The story is written in a rhyming style that mainly works, the odd section didn't, and I know lots of children love books that rhyme. The illustrations are also beautifully drawn, they look like crayon drawings.
One of my biggest fears for this book is how well it will work in the UK. I'm not up on how much the children in the USA are taught about nuclear submarines, but in the UK, as far as I'm aware (I have three sons) young children are not taught about nuclear submarines, in fact, all serving UK nuclear submarines are based in Scotland and I doubt if you ask a young child in the UK they would know what a "nuclear" submarine is.
At the back is a double page with information on three different US submarines and also about Captain Edward Beach, nicknamed 'Ned' – Apologies I'd never heard of him so it was nice to gain some knowledge. I would have expected some information on what a nuclear submarine are and possibly a glossary of terms too.
Personally, I think this book is intelligently written and eye-catching, I'm just not sure it fully works as well in the UK as it would in countries that embraces their nuclear power and teaches children at primary school level about it. In all walks of life, there are little children who love learning about vehicles or the armed services so I am sure that there will be some children who will love it.
Ned the Nuclear Submarine is certainly one of a kind and I congratulate Demetri Capetanopoulos on both his imaginative writing and his wonderful illustrations too.
Book Reviewer – Stacey
---
About the Author

Like many boys of a certain age, Demetri discovered Jules Verne and was captivated—not just by the tales of scientific adventure—but by the example of the power of imagination to shape what might be possible with the creative application of technology. Who can say with surety what influence it had, but he became qualified as a nuclear submarine engineer and deep submersible pilot.
With a career spent in technical realms, Demetri has found in this project a delightful synthesis of his passion for science, history, and the creative arts, all while rediscovering a boyhood inspiration. Surely Verne would approve. He dedicates this labor of love to his son, Leo, and to all those for whom submarine dreams stir the child within.

---
What did you think of Ned the Nuclear Submarine? Share your thoughts in the comment section below!
---
The above links are affiliate links. I receive a very small percentage from each item you purchase via these link, which is at no extra cost to you. If you are thinking about purchasing the book, please think about using one of the links. All money received goes back into the blog and helps to keep it running. Thank you.