The Butterfly Circus by Francesca Armour-Chelu – Book Review
The Butterfly Circus by Francesca Armour-Chelu – Book Review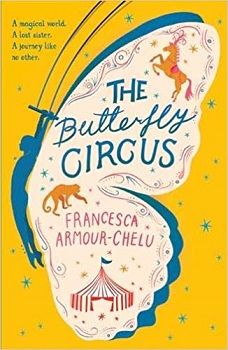 The Butterfly Circus
Author – Francesca Armour-Chelu
Publisher – Walker Books
Pages – 288
Released – 6th June 2019
ISBN-13 – 978-1406384369
Format – ebook, paperback, audio
Reviewer – Stacey
Rating – 5 Stars
I received a free copy of this book.
This post contains affiliate links.
A spellbinding, timeless and beautifully told adventure about two sisters and their journey to find each other again.
In this vivid and glittering adventure, perfect for fans of Kiran Millwood Hargrave and Katherine Rundell, sisters Tansy and Belle are the stars of the grand finale of a circus show; a dazzling and perfectly timed trapeze act where they soar through the air like butterflies.
One night, desperate to impress her older sister, Tansy attempts a spectacular jump and falls. While Belle transforms into the star of the show above, Tansy is reduced to sweeping the floor below and soon becomes shy and withdrawn. But when Belle mysteriously vanishes and Tansy's shadow miraculously comes to life, Tansy starts to realize that the courage and strength she needs to rescue her sister, may have been inside her all along.

Sisters Tansy and Belle work for the Butterfly Circus on the island of Gala. People come from the surrounding islands to visit the circus and watch the girls fly like butterflies through the sky with their trapeze act. One night Tansy decides that she can pull off the impossible with a triple loop, unfortunately for her, she misses the bar and falls breaking her arm.
Once her arm is fixed Tansy is too afraid to go back to being a trapeze artist again and so she pretends that her arms still hurts and does odd jobs around the circus instead. That is until one night her sister disappears and being her legal guardian the owners have no choice but to send Tansy to the local orphanage.
Tansy is certain her sister didn't leave of her own accord and so sets off on her own to find her sister, but she is never actually alone when her shadow splits from her and calls herself Rosa. The two must find their inner bravery if they are ever to see Belle again.
The Butterfly Circus is one of the most beautiful children's books I have ever read and it includes maps – I love a book with a map in it! The two sisters have been through a lot in their life. They are found wandering in the woods by the owner of the Butterfly Circus and taken in. Their parents are presumed dead and whilst they enjoy performing they have a little caravan to share as their home and no real comforts.
After her fall Tansy loses all confidence in herself and the owner of the circus doesn't do anything to help her but keeps her on as the help. When Belle suddenly disappears she leaves behind her precious Glowbell and this is how Tansy knows that she has been taken against her will and not just upped and left. She has an idea who has taken her and sets out to find Belle.
Tansy is shocked and delighted when her shadow comes to life. She no longer has to do this journey alone. She goes from being this little scared girl into a confident young girl who knows that she is the only one who can save Belle.
The Butterfly Circus is pure magic from beginning to end. The girls – including Rosa the shadow are delightful and the plot was just perfect. I didn't want the story to end and I was keeping everything crossed that Tansy and Rose would find Belle and that she had come to no harm. You will have to grab a copy to find out for yourself if everything runs smoothly for the girls.
Book Reviewer – Stacey
---
Purchase online from:
---
About the Author

I was brought up in Suffolk building dens & tree houses & although I loved writing & drawing, it wasn't until an accident & a long hospital stay that I really got into reading; my Dad gave me 'Pippi Longstocking' & I fell in love with her – & books.
After school I lived in an abandoned Edwardian railway carriage & made film props before reading English & Drama at Goldsmiths, University of London. After working with children with disabilities I worked in libraries & museum education. When not writing, I work for public libraries and run creative writing workshops.
'Fenn Halflin & the Fearzero' was short-listed for the Mslexia Children's Novel & the Mal Peet Award. It was also long-listed for the Branford Boase Award, the New Angles Prize, & the Little Rebels Award. My short-story inspired by Japanese folklore; 'The Starving Ghost', won the Mslexia Short Story Competition & my novel 'Lemon Ink Over Flame' was shortlisted for the Tibor Jones Pageturner Prize. 'Fenn Halflin & the Seaborn' was short-listed for the Mal Peet Award 2017. My new book 'The Butterfly Circus', was released in June 2019.


---
What did you think of the book? Share your thoughts in the comment section below!
---
The above links are affiliate links. I receive a very small percentage from each item you purchase via these link, which is at no extra cost to you. If you are thinking about purchasing the book, please think about using one of the links. All money received goes back into the blog and helps to keep it running. Thank you.