Fog Coast Runaway by Linda B Myers – Book Review
Fog Coast Runaway by Linda B Myers – Book Review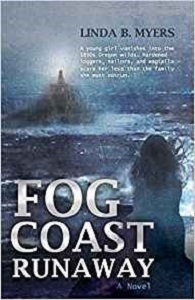 Fog Coast Runaway
Author – Linda B Myers
Publisher – Mycomm One
Pages – 370
Released – 10th April 2019
ISBN-13 – 978-0998674773
Format – ebook, paperback
Reviewer – Tina
Rating – 4 Stars
I received a free copy of this book.
This post contains affiliate links.
To escape her dangerous family, a young girl vanishes on the 1890s Oregon coast. Adelia Wright never knew her mother. Her father, a lighthouse keeper far out to sea, is distant, literally and figuratively.
After her brother terrorizes her once too often, Adelia decides there must be a better home elsewhere, one with less pain, more affection, and enough to eat. She is armed only with survival skills learned from a Clatsop native and immigrant Finnish settlers. Her perilous journey takes her to Seaside, Oregon where she works in the scullery of a posh hotel. Adelia is soon on the run again, sought regarding a murdered guest…this time with a frightened little boy in tow.
Adelia finds temporary shelter in a logging camp, then makes her way to the filthy docks of Swilltown in what is today's Astoria. As she grows to womanhood, her path includes abandonment and romance, sorrow and joy. It is a twisting pilgrimage to Adelia's discovery that a collected family can outshine a birth family. The lighthouse at Tillamook Rock is not the only beacon that lights her way.
Fog Coast Runaway is historical fiction for anyone who loves the pioneer spirit, the pluck of True Grit, and the wilds of the Pacific Northwest.

An engrossing and extremely well-researched historical fiction. Adelia is 12 years old when she flees home with nothing but the clothes on her back, a few dollars, and her brother's boots. It is a compelling read about a young woman determined to make a life for herself with her makeshift family. It is hard to put down.
The novel begins at a rather breakneck pace but soon eases into a story that spans months and then years. The narrative is consistently shifting – life challenges Adelia in unexpected ways.
Adelia may seem old for her age to a lot of readers, but as someone who had to take care of their siblings as a preteen, nothing Adelia did was unbelievable to me. It is a great example of how lucky most of us in the "first world" have it today. Likewise, the novel was surprisingly poignant. Contraception, worry over pregnancy, and the double standards regarding sexual assault are, sadly, not unlike what women (and transgender people) have to face today. While it was heartening that most men in the story were decent, good men, the solidarity between women was instrumental to Adelia's story.
These socio-political aspects were subtle, as the story is more about the bond with those we chose to consider as family. I'm not the crying type, but there was a scene where I teared up.
A couple of aspects kept this from being a 5-star read for me. The first was the third-person limited perspective. While I can detail a few defining features of the minor characters' personalities, they are not as in-depth as Adelia. And even Adelia's story is told at what feels like a distance. While she does muddle over puberty and sexuality, there is not a great deal of introspection or internal thoughts on her part. While she is not an inactive character, often the narrative propels her to where she needs to be; her life choices sometimes feel like luck. This could be because the plot jumps quickly over the mundane aspects of her life, not giving us time to get to know her when she's not dealing with trauma, grief, or major change.
Yet, the story itself is so compelling and the historical detail so rich, that this is a minor infraction. I could not put Fog Coast Runaway down. Adelia's story is a wonderful tale about overcoming adversity.
Book Reviewer – Tina
---
Purchase online from:
---
About the Author

After many years in Chicago, I traded in my snow boots for rain boots and moved to the Pacific Northwest, out on the Olympic Peninsula. My Maltese Dotty gets curly when she's wet, and since her tummy isn't far above the grass, she's curly a lot. I spend a lot of time ruminating in the ancient forests out here and come up with a darn good story now and then.
I write a monthly humor column for our local paper called FROM THE BACK NINE, and I'm a co-founder of Olympic Peninsula Authors, a group that promotes the many fine writers living out here in the back of beyond.




---
What did you think of the book? Share your thoughts in the comment section below!
---
The above links are affiliate links. I receive a very small percentage from each item you purchase via these link, which is at no extra cost to you. If you are thinking about purchasing the book, please think about using one of the links. All money received goes back into the blog and helps to keep it running. Thank you.