Paris by the Book by Liam Callanan – Book Review
Paris by the Book by Liam Callanan – Book Review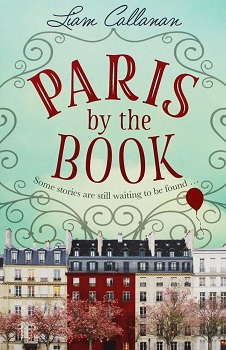 Paris by the Book
Author – Liam Callanan
Publisher – HQ
Pages – 368
Released – 1st June 2018
ISBN-13 – 978-0008273668
Format – ebook, paperback, audio
Reviewer – Clive
Rating – 3.5 Stars
I received a free copy of this book.
This post contains affiliate links.
Some stories are still waiting to be found.
In a city of millions, it's easy to lose someone…
Twelve weeks before Leah Eady arrived in France, her husband disappeared. Early one morning, he walked out the door and never came back. All he left behind was a scrumpled note in a cereal box, leading her to the bustling streets of Paris.
Once she arrives, she discovers a mysterious unfinished manuscript written by her husband, and set in the very same city. Hoping to uncover more clues, Leah takes over a crumbling bookshop with her two young daughters, only to realise that he might just be closer than any of them ever imagined…
…but what if he doesn't want to be found?

Paris by the Book starts so well. Liam Callanan is a gifted writer and even though the story was slow paced I didn't care. I flew through the early chapters in the warm glow of the descriptions of their life as a young couple and then of Leah and the girls as they settled into life in Paris.  Callanan has written in the first person from Leah's perspective and he frequently uses a technique whereby we follow her thoughts for a paragraph or two set in the midst of other action.  Instead of interrupting the flow I felt this was a fair reflection of how the human brain operates, especially when it is recalling events.
The principal storyline is the familiar tale of a family left to survive after the husband and father has disappeared with no warning or explanation; a tragic theme that has been reworked on many occasions.  Naturally this invokes the expected self-questioning by Leah accompanied by guilt that she has let her husband and children down in some way.
Unfortunately for me the magic of Paris by the Book did not continue. After a few mildly interesting events in Paris, Leah's introspection started to drag me down. The story, such as it was, took some odd twists and I lost interest in what might have happened to her husband.
Eventually the story closed with a mildly interesting touch but my affection for the main characters could not return.  I felt cheated by Callanan in that he had led me to high expectation that he could not fulfil. I was also disappointed in Leah who took me so willingly into her mind yet failed to convince me in those final chapters.
As I said above, Liam Callanan is a skilled writer who uses a soothing style of prose. He describes well and he has a gentle, sensitive turn of phrase. I see that he teaches Creative Writing, skills which he clearly possesses but they alone are insufficient to produce a good novel. The reader also needs a story with a beginning and an end that will entertain.
If Liam Callanan can find a good story he will deserve a five star review but the best I can manage is three and a half stars.
Book Reviewer – Clive
---
Purchase online from:
---
About the Author

Liam is the author of The Cloud Atlas, All Saints, Listen and Paris by the Book. He serves in the English department of the University of Wisconsin-Milwaukee, and was previously its chair, as well as coordinator of its Ph.D. program in creative writing.
He has regularly contributed to local and national public radio, and is possibly the only person now living (but consult your own Venn diagram) who has written for all of the following: the Wall Street Journal (on zeppelins, jetpacks, and touring Paris and Greece with children's books), The Awl, Medium, Commonweal, Esquire.com (on swimming and flying), Slate, the New York Times Book Review, the Times op-ed page, the Washington Post Magazine, San Francisco Chronicle, Forbes FYI, Good Housekeeping, Parents, Milwaukee Magazine and elsewhere.
His short fiction has appeared or is forthcoming in a variety of literary journals, including Gulf Coast, the New Haven Review, Tinge (where his story was named one of the Millions Writers Award Notable Stories of 2011 by storySouth), the Writers Chronicle, Blackbird, Crab Orchard Review, Southern Indiana Review, Caketrain, failbetter and Phoebe. Liam is also the creator and co-executive producer of the Poetry Everywhere animated film series.



---
What did you think of the book? Share your thoughts in the comment section below!
---
The above links are affiliate links. I receive a very small percentage from each item you purchase via these link, which is at no extra cost to you. If you are thinking about purchasing the book, please think about using one of the links. All money received goes back into the blog and helps to keep it running. Thank you.