The Bespokist Society Guide to London by Bespokist Ltd – Book Review
The Bespokist Society Guide to London by Bespokist Ltd – Book Review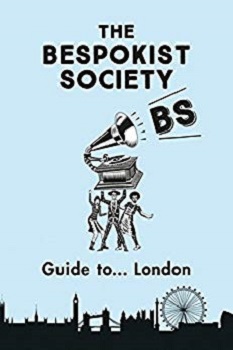 The Bespokist Society Guide to London
Author – Bespokist Ltd
Publisher – Acorn Independent Press
Pages – 120
Released – 1st April 2018
ISBN-13 – 978-1912615148
Format – ebook, paperback
Reviewer – Stacey
Rating – 4 Stars
I received a free copy of this book
Post contains affiliate links.
As the first travel book produced by the hugely influential Bespokist Society, this handy guide takes you to a London you've never seen: a London of challenging Etruscan restaurants, edgy branding parlours, emoji hotels and hidden Icelandic communities; a London where 8-ply toilet paper is a thing.
On the way, meet an eclectic band of inspiring Londoners – from scriveners to socialites via urban wordsmiths and coffee preachers – and see why London is now the global epicentre of Bespokist consciousness, community and culture.

I knew before I started reading this book that it was a spoof, however, not being from London and having only visited a handful of times (mainly staying down the road from Euston Station), I wasn't quite sure whether some of the places mentioned actually existed and the authors were taking the mick out of them, or, that they had been completely made up. Judging by the fact I tried googling a few it shows you how well put together this book is – or that I'm really that stupid!!
The book is split into five sections, each a different area of London and gives you the low down on places to eat, cleanse, groom, workout, hang out, live, sleep and what to watch at the theatre. There are also interviews with 'proprietors' too.
The book is highly amusing and if you live in London or know the place well this book would be perfect for you. I also love all the photographs throughout, especially the food. How do you fancy the delightful looking calf's lymph nodes for lunch, or you could try the margarine tasting plate!
The book is small in size but is certainly filled to the brim with tongue in cheek information. Here's hoping that the authors decide to do more of these books for other cities. I'll be certainly picking up a book if they decide to cover my home city of Manchester.
Reviewed by Stacey
---
Purchase online from:
---
About the Author
Who are we?
​A social collective with a passion for the curated and the bespoke. Current chairman is Tommy Sponge.
​Where did it begin?
​Like the impressionists who forged an artistic movement in the fin de siecle coffee shops of Paris, The Bespokist Society began in a biospheric winery in Norbiton in 2013.
Jez Tapano
Born : Easter Island
Lives : Plaistow
Favourite drink : Messy Monk IPA
Favourite food : Heritage carrots
Favourite hangout : Vine n Vinyl of course!
Nastya Petrov
Born : Vladivostock
​Lives : Harrow on the Hill
​Favourite drink : Dagenham Gin on the rocks
​Favourite food : Rare breed walrus
​Favourite hangout : Nina Saviceu gallery

---