Scythe by Neal Shusterman – Book Review
Scythe by Neal Shusterman – Book Review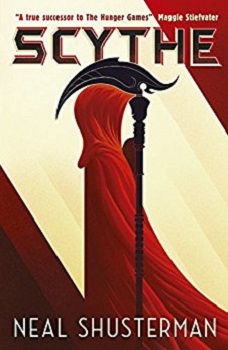 Scythe
Arc of a Scythe Book One
Author – Neal Shusterman
Publisher – Walker Books
Pages – 449
Released – 1st February 2018
ISBN-13 – 978-1406379242
Format – ebook, paperback, hardcover, audio
Reviewer – Nia
Rating – 4 Stars
I received a free copy of this book
Post contains affiliate links.
A dark, gripping and witty thriller in which the only thing humanity has control over is death.
In a world where disease, war and crime have been eliminated, the only way to die is to be randomly killed ("gleaned") by professional scythes. Citra and Rowan are teenagers who have been selected to be scythes' apprentices, and despite wanting nothing to do with the vocation, they must learn the art of killing and understand the necessity of what they do.
Only one of them will be chosen as a scythe's apprentice and as Citra and Rowan come up against a terrifyingly corrupt Scythedom, it becomes clear that the winning apprentice's first task will be to glean the loser.

This is the first instalment in a trilogy with an amazing premise – mortality is a thing of the past, but population control is obviously something that needs to be implemented so certain citizens are picked to become 'scythes' – essentially the people in charge of deciding who dies and the method of their deaths. Everyone else can live infinitely and reset their physical ages whenever they feel like it.
Citra and Rowen are picked by the Scythe Faraday to become his apprentices and find that the organisation of Scythedom is at odds with itself – some scythes have differing opinions on what their duties are towards the main population and that leads to political friction.
The pacing of this book was a little bit drawn out for my tastes, it could have done with a bit more action to break up the philosophy and politics. The interactions between the characters were interesting but they didn't feel completely developed so I wasn't able to fully empathise with them, this story hinges completely on its originality and its mysteries – in this case, I think those things are enough to make it a thoroughly enjoyable read.
One thing that I'll address is that this book is being touted as the next Hunger Games…. Yea….. No. The only similarities between the two is that there is a teenage boy and girl involved in peril. The world building in the Hunger Games isn't as far removed from our reality, whereas Scythe is a bit more sci-fi and has some excellent world building so we can understand the principles on which everything operates.
I really enjoyed this book and look forward to reading the rest of the series, where I hope the main characters will have some more room to grow and stretch their legs!
Reviewed by Nia
---
Purchase online from:
---
About the Author

Award-winning author Neal Shusterman grew up in Brooklyn, New York, where he began writing at an early age. After spending his junior and senior years of high school at the American School of Mexico City, Neal went on to UC Irvine, where he made his mark on the UCI swim team, and wrote a successful humor column. Within a year of graduating, he had his first book deal, and was hired to write a movie script.
In the years since, Neal has made his mark as a successful novelist, screenwriter, and television writer. As a full-time writer, he claims to be his own hardest task-master, always at work creating new stories to tell. His books have received many awards from organizations such as the International Reading Association, and the American Library Association, as well as garnering a myriad of state and local awards across the country. Neal's talents range from film directing (two short films he directed won him the coveted CINE Golden Eagle Awards) to writing music and stage plays – including book and lyrical contributions to "American Twistory," which is currently played in several major cities. He has even tried his hand at creating Games, having developed three successful "How to Host a Mystery" game for teens, as well as seven "How to Host a Murder" games.
As a screen and TV writer, Neal has written for the "Goosebumps" and "Animorphs" TV series, and wrote the Disney Channel Original Movie "Pixel Perfect". Currently Neal is developing an original TV series with his son, Jarrod, and adapting Tesla's Attic with co-writer Eric Elfman for TV as well.
Wherever Neal goes, he quickly earns a reputation as a storyteller and dynamic speaker. Much of his fiction is traceable back to stories he tells to large audiences of children and teenagers — such as his novel The Eyes of Kid Midas. As a speaker, Neal is in constant demand at schools and conferences. Degrees in both psychology and drama give Neal a unique approach to writing. Neal's novels always deal with topics that appeal to adults as well as teens, weaving true-to-life characters into sensitive and riveting issues, and binding it all together with a unique and entertaining sense of humor.





---