Chase: The Boy Who Hid by Z Jeffries – Book Review
Chase: The Boy Who Hid by Z Jeffries – Book Review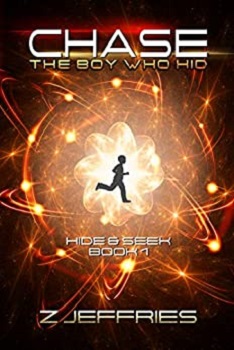 Chase: The Boy Who Hid
Hide & Seek Book One
Author – Z Jeffries
Pages – 221
Released – 15th October 2020
Format – ebook
Review by – Jenna
Rating – 4 Stars
I received a free copy of this book.
This post contains affiliate links.


Don't hide from your feelings. Hide from the killer robot hunting you.
I always knew I'd inherited my grandad's mind for science and technology, but when he goes missing, I get his spot in a top-secret government game of hide and seek. The military camouflage challenge, DARPA's game where shapeshifters, mechs, and telepaths hide from a robot seeker, is also where Grandad vanished.
To find out what happened, I'll play along- gain the team's trust, master the tech, and avoid catching feelings for the team navigator. If I can do all that, then maybe I can survive the dangerous game. But if it comes down to winning or finding Grandad, I'll ditch the game and betray my team in a millisecond. Even if it means I go missing, too.

If you're looking for a title that will please young readers, here you go!
The author provides lots of interesting elements in this book – inventions, science, gadgets, all leading to a competition. The opening scenes will capture the reader's attention.
If you have a gamer in your house or classroom and need a book to recommend, again, here you go!
Paintball, cloaking, mind games, flying through the air and dodging robots… Oh my – exciting! Bravo to the author for his action scenes. So vivid. So well done. The story leads up to a three day competition. During those three days, the reader gets ample, detailed game play. In fact, I'd say the novel is roughly 60% action.
I went back and checked the author's dedication and thank you pages. I needed to see if it was a prepublication version and not the final draft. Why? I believe it needs additional editing. I encourage the author to run this by fresh eyes if I did have the final version as I saw typos, odd spacing gaps and weird scene jumps.
The author shared lessons on ageism, racism, gender identity, ethnic stereotypes, etc. I felt there were too many topics. Some of the corrections made were very forced and clunky. I feel picking one or two areas to focus on, then incorporating them with story and action throughout the novel would have been a better learning tool. The writing tool of 'show, don't tell' comes to mind.
Some problems have me awarding Chase: The Boy Who Hid a three. The outstanding action was a clear five…. therefore I landed on a rating of four.
Jeffries already has two more books in the series:
Miss: The Girl in Disguise, out now
Gamble: One Champion Wins, released 7th January 2021
Book Reviewer – Jenna
---
Purchase online from:
---
About the Author

I'm Z, though some folks know me as Zack, Zachary, or Joshua Novak (my adult SFF pen name, free short grimdark stories at EpicNovak.com).
For those who don't know, I'm a non-practicing Jewish white guy with a wife, kid, and dog living in the Midwestern suburbs. My interests include cheese, space travel, and whether we'll be allowed cheese while traveling space. I also worry a lot of politics and social justice.
That's right. I'm a Social Justice Worrier. If you don't want to read stories by an SJW like myself, allow me to show you the door. And by door, I mean the x that closes this window.
The world around us is changing. I truly think that if you're not working toward a better, brighter future, you're working against it. I am always listening, learning, and writing. But here's the rub- nothing I listen to or learn will matter with noone there to read what I write. I need partners in this crazy endeavor. I need you.


---
What did you think of Chase: The Boy Who Hid? Share your thoughts in the comment section below!
---
The above links are affiliate links. I receive a very small percentage from each item you purchase via these link, which is at no extra cost to you. If you are thinking about purchasing the book, please think about using one of the links. All money received goes back into the blog and helps to keep it running. Thank you.
Like us on Facebook – Tweet us on Twitter – Pin us on Pinterest