Where Snow Angels Go by Maggie O'Farrell – Book Review
Where Snow Angels Go by Maggie O'Farrell – Book Review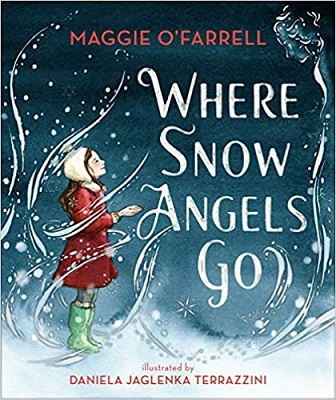 Where Snow Angels Go
Author – Maggie O'Farrell
Publisher – Walker Books
Pages – 72
Released – 5th November 2020
ISBN-13 – 978-1406391992
Format – hardcover
Review by – Stacey
Rating – 5 Stars
I received a free copy of this book.
This post contains affiliate links.


Have you ever woken up suddenly, in the middle of the night, without knowing why? Best-selling and award-winning master storyteller Maggie O'Farrell weaves an extraordinary and compelling modern fairy tale about the bravery of a little girl and the miracle of a snowy day.
Sylvie wakes one night, suddenly, without knowing why. Then she sees the most spectacular sight – a pair of wings, enormous in size, made of the softest snow-white feathers imaginable. An angel in her bedroom … a SNOW angel! He tells her that he is here to look after her, for Sylvie is not as well as she seems…
Many months later, as Sylvie recovers from her illness, she longs to see her snow angel again. He saved her life! There is so much she wants to tell him, so much she wants to know! Will he ever come back to her? And how can Sylvie make sure that everyone she loves has their own snow angel, to keep them safe, too?

One night little Sylvie wakes up and sees a figure in her room, which has turned icy cold. The figure is shocked that Sylvie can see him and tells her he is her snow angel that she created him in the snow last year and he is there to look after her. This is his first time protecting her and he is new to the job.
He tells Sylvie that she is sick, but she doesn't feel sick. The snow angel wakes her mother who checks in on her daughter and finds her burning hot.
Months later after Sylvie has recovered from her illness she wants to see the angel again and so she tries lots of dangerous things to bring him to her so he can keep her safe, but will any of her stunts work? Will she ever see her angel again?
Where Snow Angels Go is a children's book by award-winning author and this year's Waterstone Book of the Year winner with her Novel Hamnet, Maggie O'Farell. I haven't read her work before, although I did try to buy Hamnet from a book shop yesterday but they had sold out. After reading this book I will make sure I manage to get a copy as her story-telling skills and imagination are breathtaking.
The book was beautifully written and I adored the heartfelt story of a little girl trying to see her snow angel again after she finds out that he is there to protect her. It is also about the selflessness of the little girl as she worries about people who have never made a snow angel before not having a guardian watching over them.
The full-page illustrations by Daniela Jaglenka Terrazzini and a delight to look at and bring the story to life, you can feel the emotions that Sylvie goes through as well as the love the snow angel has for her.
This is a heart-warming and magical book that made me smile throughout. Perfect for these winter months and I can see a lot of children, once the snow has arrived, rushing to make their own snow angels.
Book Reviewer – Stacey
---
Purchase online from:
---
About the Author
Maggie O'Farrell is the author of the Sunday Times no. 1 bestselling memoir I AM, I AM, I AM, and eight novels: AFTER YOU'D GONE, MY LOVER'S LOVER, THE DISTANCE BETWEEN US, which won a Somerset Maugham Award, THE VANISHING ACT OF ESME LENNOX, THE HAND THAT FIRST HELD MINE, which won the 2010 Costa Novel Award, INSTRUCTIONS FOR A HEATWAVE, which was shortlisted for the 2013 Costa Novel Award, THIS MUST BE THE PLACE, which was shortlisted for the 2016 Costa Novel Award, and HAMNET. She lives in Edinburgh.



---
What did you think of Where Snow Angels Go? Share your thoughts in the comment section below!
---
The above links are affiliate links. I receive a very small percentage from each item you purchase via these link, which is at no extra cost to you. If you are thinking about purchasing the book, please think about using one of the links. All money received goes back into the blog and helps to keep it running. Thank you.
Like us on Facebook – Tweet us on Twitter – Pin us on Pinterest