Hotel Flamingo by Alex Milway – Book Review
Hotel Flamingo by Alex Milway – Book Review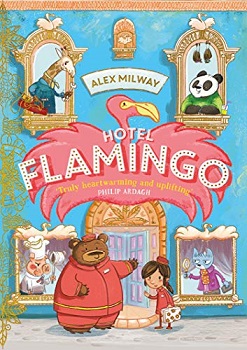 Hotel Flamingo
Author – Alex Milway
Publisher – Piccadilly Press
Pages – 192
Released – 7th February 2019
ISBN-13 – 978-1848127753
Format – ebook, paperback
Reviewer – Stacey
Rating – 4 Stars
I received a free copy of this book.
This post contains affiliate links.
When young Anna inherits a dilapidated once-grand hotel from her Great Aunt Mathilde, she's determined to restore it to its former glory. But this is no ordinary hotel – all of her staff and guests are animals!
Anna soon rises to the challenge. Whether it's a flamingo, a penguin or a hippo knocking at the door, Anna is ready to welcome them all – with the help of her trusty sidekicks T Bear the doorman, Squeak the friendly mouse elevator, and Lemmy the lemur receptionist … As she soon finds out, though, running an animal hotel is no easy task.
Can Anna make Hotel Flamingo a success once more?

Anna Dupont has inherited Hotel Flamingo, the sunniest hotel in town, from her Great Aunt Mathilda who left it to her in her will. Upon arrival Anna is disappointed to see that the place is grey and peeling, the windows are cracks and that there are cobwebs and dust everywhere. There are also only two employees and there have been no guests for the last three years.
Anna sets about cleaning the hotel up and hires lots of staff including a maid who is allergic to dust and a rude, but very talented chef who wants to do everything his way. She also hires a handy-giraffe to fix the pool and other maintenance jobs.
Her first paying customers are a family of cockroaches that no other hotel will allow to stay as they are insects. Soon though the owner of the local hotel that put them out of business three years ago with his glitzy, huge hotel, wants to see for himself what is happening and he isn't pleased. There's also a hotel inspector whose come to take a look. If he decides the place isn't good enough he can shut the Hotel Flamingo down again. Can Anna and the staff make the place presentable and keep all the new guests happy?
Hotel Flamingo is the first in a new children's series from author Alex Milway. I've loved Alex's books in the past so I couldn't wait to start on this one.
The first thing that hits you as you open the title page is how beautifully illustrated the inside is. The vibrant colours are inviting and the images bring the story to life.
The hotel is situated on Animal Boulevard and is a grand hotel with fifty rooms over five floors and includes a restaurant, penthouse suite, pool, and a spa. The staff, with the exception of Anna, are all different animals and they all enjoy their jobs, especially Mr. T Bear and Lemmy the Ringtailed Lemur who have never left the place and are now happy to have the hotel back up and running.
The story is very imaginative and enjoyable and I can see this book being a big hit with the kids. It shows with hard work just what can be achieved if you all pull together.
Reviewed by Stacey
---
Purchase online from:
---
About the Author

Alex Milway has always enjoyed making up stories and, after leaving art college, he discovered that he liked to write and illustrate them as well. His interest in furry creatures first reared its head in the The Mousehunter trilogy, where weird and wonderful mice ran riot all over the world.
In The Mythical 9th Division, the fur quota got even bigger, as he had to master the art of drawing a troop of yetis whose main purpose was to save the world. Alex is now a full-time author-illustrator, who suffers from furballs and works from his home in London.





---
The above links are affiliate links. I receive a very small percentage from each item you purchase via these link, which is at no extra cost to you. If you are thinking about purchasing the book, please think about using one of the links. All money received goes back into the blog and helps to keep it running. Thank you.