Peach by Wayne Barton – Book Review
Peach by Wayne Barton – Book Review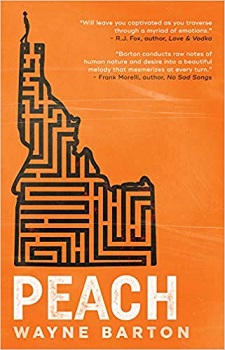 Peach
Author – Wayne Barton
Publisher – Fish Out of Water Books
Pages – 320
Released – 15th March 2019
ISBN-13 – 978-1947886025
Format – paperback
Reviewer – Marcia
Star Rating 3.5 Stars
I received a free copy of this book.
This post contains affiliate links
Following the untimely passing of a close friend, British songwriter and producer, Freddie Ward, arrives in Bliss, Idaho to work on a comeback album with beloved singer-songwriter, Hal Granger. Adrift and bereft, Freddie is looking to gain a sense of perspective after a series of bad decisions–decisions that cost him his relationship and life as he knows it. However, almost as soon as Freddie arrives in Idaho, Hal drops an unexpected and devastating bombshell.
Far from the hustle and bustle of his life in England, out in the stark isolation of the northwestern U.S., with time to think, to reflect, Freddie slowly begins to rebuild his life, haunted both by the events of the recent past and his reactions to them. Through words of wisdom from Hal and a series of meandering, existential, and profound conversations, PEACH explores themes such as love, loss, loyalty, and friendship; second chances and redemption; how to make the most of your time; and, last but not least, the meaning of home.

Protagonist Freddie Ward is a travelling musician and songwriter. When someone he had become close to, via his work, dies Freddie takes their death hard and struggles with grief, he loses his identity and shuts out the one person that is closest to him.
After a meeting with someone from his past, little by little he begins to find himself again and return to the man he was before.
Freddie's journey of loss and self-discovery takes him from the UK to the USA and then back again. It was interesting to get to read about Freddie's journey in the two different countries, both were detailed well. It was also endearing how the conversations throughout seemed so heartwarming and touching as if the author had been through the same heartache himself.
The structure of the book was quite hard to grasp at the start, but once I got used to it the story started to flow and held me to the pages. This is not a book you can rush, it is a slow paced story of love, loss, and rediscovery. The pages were filled with pure emotion which you could feel intensely and the writing makes you stop and think about your own life. You might also need a tissue at some points.
However, I felt a little let down by the ending as it really didn't compliment this wonderful book, which is such a shame.
Reviewed by Marcia
---
About the Author
Wayne Barton is a best-selling author, ghost writer and producer.
In 2015 he was described by the Independent as 'the leading writer on Manchester United'. He has ghost written a number of autobiographies of former footballers.
In 2018 his critically acclaimed biography of former United assistant manager Jimmy Murphy was a number one best seller; this was followed by the December 2018 release of 'Too Good To Go Down' which achieved the same accolade. 'Too Good To Go Down' is the book of the BT Sport film of the same name, which Wayne worked on in a producer capacity.





---
The above links are affiliate links. I receive a very small percentage from each item you purchase via these link, which is at no extra cost to you. If you are thinking about purchasing the book, please think about using one of the links. All money received goes back into the blog and helps to keep it running. Thank you.