The Writing Life of: Paula Williams
Paula Williams
This week I am thrilled to be interviewing author Paula Williams. Paula Williams will be sharing with us detail of her writing life, telling us all about her latest book 'Murder Served Cold', which was released on 10th October 2018 and answering a few fun questions too. This post contains affiliate links.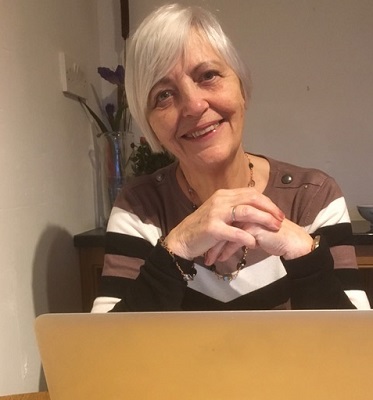 Paula Williams is living her dream. She's written all her life – her earliest efforts involved blackmailing her unfortunate younger brothers into appearing in her plays and pageants. But it's only in recent years that she discovered to her surprise that people with better judgement than her brothers actually liked what she wrote and were prepared to pay her for it.
Now, she writes every day in a lovely, book-lined study in her home in Somerset, United Kingdom, where she lives with her husband and a handsome but not always obedient rescue Dalmatian called Duke. She started out writing fiction for women's magazines (and still does) but has recently branched out into longer fiction. She also writes a monthly column, Ideas Store, for the writers' magazines, Writers' Forum.
But, as with the best of dreams, she worries that one day she's going to wake up and find she still has to bully her brothers into reading 'the play what she wrote'.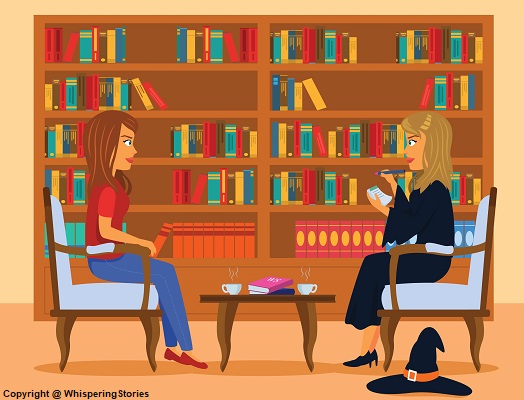 1) As a child did you have a dream job in mind?
My older brother was in to jazz so I was introduced to trad jazz at a very young age and from the age of about 10 I wanted to be a singer with a jazz band! When I was about 13 I did in fact become lead singer in a group (we weren't good enough musicians to play jazz) but we were very bad and didn't last long.
2) Who was your favourite childhood author (s)?
I learnt to read at a very early age and adored Enid Blyton. But when I was about 12 my mother introduced me to Agatha Christie. I've been a fan of hers ever since and is probably the reason why I now write crime fiction.
3) Was there a particular point in your life that you realised you wanted to be a writer?
I've wanted to be a writer all my life. I used to write plays and pageants and force my three younger brother to act in them. And, in fact, my first published short story was called "Angels on Oil Drums" and is an only slightly fictionalised account of one of those pageants.
4) What is your average writing day like? Do you have any special routines, word count, etc?
I tend to work at my desk mostly in the afternoons although if I'm at the planning stage of a book (as I am at the moment), I'm thinking of it most of the time.
I work in a lovely book-lined study, which has been something I have wished for all my life. We've lived in the same house for thirty-five years which means that, now my sons have grown up and left home, we have some spare rooms, one of which is now my study.
I write every single day and record my word count on a spreadsheet. I find it very motivating to add it up at the end of the week. Most of the time I write straight on to my laptop and use a brilliant programme called Scrivener, which is what I am writing this on.
5) How many books have you written? Any unpublished work?
For ten of the last eleven years I was mainly a short story writer and have had over 400 short stories and serials published, mostly in women's magazines in the UK and overseas. But I've also written seven novels, 50k in length, which were first published by DC Thomson as Pocket Novels and are now in Large Print and available in libraries.
My first full length novel, Murder Served Cold, was published in October 2018. It's the first in a series and the second, Rough and Deadly, will be coming out in 2019. I am currently working on the third.
I write a monthly column for the UK magazine, Writers' Forum. Called Ideas Store, it focuses on where writers get their ideas from. I've interviewed many, many writers over the years and, so far, no one has refused me.
I also write my village pantomime and have done so for the last six years. This year's, The Fladdams Family, is in the final frantic stages of rehearsal as I write this and I have to admit I get more nervous about that than any book launch!
As for unpublished work, I have stacks! I never throw anything away, not even the play that I wrote, entitled 'The Sea is Salt' (snappy title!) when I was 12 years old.
6) Are you a plotter or a pantser?
I'm a bit of both, which makes me a plantster, I suppose. I always start off promising that, this time, I'm going to be very good and plot everything carefully. (That's the stage I'm at now with my current WIP) but the time will come when my characters start nagging away at me and I have to start writing, often before I've even worked out who did it and why! When I wrote Murder Served Cold, I was about 30k into the story before I finally decided who the murderer was going to be!
Concerning your latest book: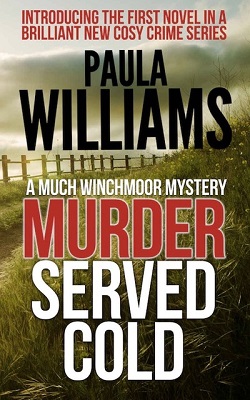 Murder Served Cold
Author – Paula Williams
Publisher – Crooked Cat Books
Pages – 239
Release Date – 19th October 2018
ISBN 13 – 978-1725012998
Format – ebook, paperback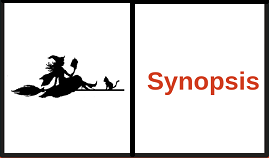 After her boyfriend runs out on her with the contents of her bank account, Kat Latcham has no choice but to return to the tiny Somerset village of Much Winchmoor, where she grew up. A place, she reckons, that's not so much sleepy as comatose and she longs for something exciting to happen to lessen the boredom of having to return to live with her parents.
But when she and her childhood friend, Will Manning discover a body and Will's father John is arrested for the murder, Kat suddenly realises she should have heeded the saying" Be careful what you wish for" as she sets out to prove John's innocence. But before she can do so, there is a second murder and Kat finds herself in danger of becoming victim number three.
Readers of Sue Grafton or Janet Evanovich might enjoy this, the first in the Much Winchmoor series of cosy murder mysteries spiked with humour and sprinkled with romance.

7) How did you go about researching the content for your book?
Very little research went into this because the Much Winchmoor Mystery Series is based around a small Somerset village very similar to the one I live in and the characters are very similar to the people I meet every day. (Although none of them, as far as I know, are murderers!). I have a very useful reference book which gives 65 ways to kill your victim which I refer to frequently. My husband always gets very uneasy when he sees me reach for it though!
8) How long did it take to go from ideas stage to writing the last word?
Murder Served Cold was my first full length novel and it took years because I was forever fiddling around and tweaking it before finally summoning up the courage to send it to my lovely publishers, Crooked Cat Books. The sequel, which I've just finished took a little over six months to write so far. (I haven't got the first edits back yet).
9) How did you come up with the title of your book?
I don't want to give too much of the story away but the main inspiration came the saying 'Revenge is a dish served cold' and it fitted beautifully.
10) Can you give us an insight into your characters?
My main character, Kat, is a feisty 23 year old who, because of financial difficulties, has been forced to give up her independence and return to the village where she grew up. The books are written in the first person, something I vowed I'd never do. But Kat's voice is very strong and there's quite a lot of humour in this cosy mystery series, most of which comes from her observations, so I just let her have her say.
11) What process did you go through to get your book published?
Murder Served Cold had been sitting on my laptop for ages when I saw (I think it was on Facebook) that Crooked Cat Books was closing their submissions window on 31st December, 2017. I'd heard good reports about this publisher and this gave me the nudge I needed to send it off. I heard back with an offer of a contract within two days! (It scared the life out of me!!)
12) What's next for you writing wise?
I'm looking forward to the publication of the second in the Much Winchmoor Series, called (at the moment) Rough and Deadly, which will be some time this year.
As I've already said, I'm working on the third in the series. Then there's next year's pantomime to write, plus my column, plus a magazine serial. And, of course, my blog. It's going to be a busy year.
After that, who knows? I've certainly got enough story ideas to keep the Much Winchmoor series going for a long, long time.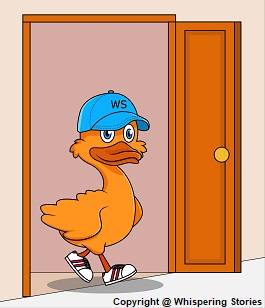 1) If you could have any super power for the day which would you choose?
I would use my power to invent the 30 hour day – only I'd want it for more than a day. Then maybe, just maybe, I'd get to the end of my To Be Read pile – and even, my To Be Written pile.
Oh what a lovely question! I have a beautiful 8.5 year old Dalmatian called Duke. He's a rescue dog (from the lovely people at British Dalmatian Welfare) and came to us with a few issues but in the 12 months since we've had him, he has totally transformed our lives. He has made us laugh and cry, but mostly laugh and we love him dearly. Even though he steals our food and chews the post if we don't get to it quick enough.
3) If you decided to write an autobiography of your life, what would you call it?
Hmm. Not such an easy one. I think it would have to be "The Luckiest Person in the World" because that's what I am, to be able to spend my time doing something I love and actually getting paid for it. I still can't believe that people pay good money to read my books (and leave lovely reviews) and that I no longer have to arm-lock my younger brothers into appearing in 'the play what I wrote'!
4) Your book has been made into a feature film and you've been offered a cameo role, which part would you choose, or what would you be doing?
I'd be one of the extras, tucked away in the background, that's for sure. Like a lot of writers, I am a introvert and spend a lot of my time people watching (which is where I get a lot of my ideas from!)
5) Where is your favourite holiday destination?
I grew up not far from the beautiful Jurassic Coast in Dorset and we go back there whenever we can. So, my favourite holiday destination would have to be Lyme Regis, or maybe West Bay. I love that part of the coast.
But then again, I love the Lake District and Yorkshire and Cornwall and ….
I am so lucky, my husband's retired and we have a motor home and take ourselves and the dog off whenever the fancy takes us. Our life is one long holiday really. And as long as I can take my laptop with me, I'm happy as I can (and do) work anywhere.
6) A baseball cap wearing, talking duck casually wanders into your room, what is the first thing he says to you?
Now that's a weird one! I think he'd ask for a part in my next pantomime. It's based (very loosely) on Alice in Wonderland, so he'd fit in quite well.
But he'd also probably ask me to keep a tight hold on Duke, who has a tendency to chase anything that moves.
---
Author links




---
I would like to say a big thank you to Paula Williams for sharing with us details of her writing life, and for a wonderful interview.
The above links are affiliate links. I receive a very small percentage from each item you purchase via these link, which is at no extra cost to you. If you are thinking about purchasing the book, please think about using one of the links. All money received goes back into the blog and helps to keep it running. Thank you.