The Lies that Kill You by Dino Sic – Book Review
The Lies that Kill You by Dino Sic – Book Review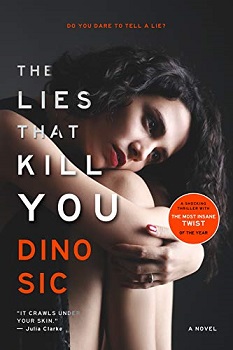 The Lies that Kill You
Author – Dino Sic
Publisher – The Scoop
Pages – 295
Released – 15th January 2019
Format – ebook
Reviewer – Stacey
Rating – 3.5 Stars
I received a free copy of this book
This post contains affiliate links.
Sunset. Beach. A man and a woman.
He's lying on the sand, bleeding. She's holding a gun, trembling.
30 DAYS EARLIER.
After her mother dies from Alzheimer's, Emma moves with her husband to Montauk to build a new life. She's immediately intrigued by the manor next door and its mysterious owner, Mr. Gold. Nobody has ever seen him. Nobody even knows his first name. But he knows them.
The next day, Emma finds an invitation at her doorstep for the 4th of July party hosted by Mr. and Mrs. Gold. Her husband doesn't want to go, but she can't resist the temptation. It's the biggest mistake of her life because after she sees something at that party, she'll get herself involved in a mystery that could destroy her and her family for good.
The day after, Gold's wife has disappeared, and he's a potential suspect. Emma believes he's innocent and wants to help him, and he trusts only her. In spite of her husband's jealous protest, she agrees to cover his case on her blog and uncover the truth. She'll find out that his wife isn't just another gone girl and that there's a dark and sick scheme in play. What she doesn't know is that someone is watching her every move, that someone has broken into her house while she was sleeping, and that someone is pulling her strings behind the curtains. Soon, she will, and it will lead to …
… that night on the beach. With a gun in her hand, she has two options: she can either pull the trigger and save her family or do the right thing and lose everything she cares about. What is she going to do?

The book opens with a man's body on the beach and Emma, one of the main characters, stood over him contemplating whether to finish him off or not. She knows if she does she is in trouble and that if she doesn't there will be consequences. A lose-lose situation. But why is Emma stood on the beach? Who is the man and how did they get into the predicament they now find themselves?
The story then jumps back in time 30 days and you witness first hand in chronological order, leading up to the opening scene, the events that led to it. The book is told via multi points of view format and in the first person from the main characters, Emma, her husband Matt and Alice, her new friend.
The synopsis and the title had me very interested to read the book. I love a good psychological thriller and I gathered that this was going to really play with my mind given the opening scene. However, whilst the plot was enjoyable my downfall came in that the book was told via multi POV's. This is a style I'm really not keen on and more importantly, I'm not fond of multi POV's when it's told in the first person as I dislike having to keep changing the way I read a person as they each have their own voice.
I like a book to flow and for the story to progress leading up to the finale. I like to feel the excitement build up gradually and to get to know the characters fully by the end. When books switch characters so often this feels lost to me and I find that I can't fully enjoy what is happening as I get so far into it one person's story and then the characters switch and you have to get used to this other person's voice and then by the time you return to the first person you were reading you forget where their story ended. I know lots of people love books like this, but I just don't, hence my 3.5 star rating.
The characters were okay but felt a little too structured, especially Emma and Matt. For a husband and wife buying their first home together, they had lots of secrets from one another and didn't trust each other from the very beginning. Matt, I started out liking but when his obsessive nature came through he started to just annoy the hell out of me.
Overall, The Lies that Kill is a good physiological thriller that had lots of twist and turns. If you love multi-POV books then you will enjoy this one. Just a pity that I don't.
Reviewed by Stacey
---
About the Author

Dino Sic was born in Osijek, Croatia in 1994. He earned his master's degree in journalism and public relations from Department of Culturology of Josip Juraj Strossmayer University in Osijek, and is now studying for a Ph.D. He's currently doing everything possible to achieve his life goal and become a full-time author.
Dino is the author of The Lies That Kill You and is currently working on his second thriller. Ever since he can remember, he has always liked to make up stories and characters, create different worlds and imagine devious twists and turns. He enjoys exploring the shadowy side of the human nature in his novels and is always trying to find out what makes them tick, what are their deepest and darkest fears and secrets and what's going on in their heads when they're alone.
He believes anything is possible if you work hard enough and never give up. You just have to follow your dreams, do what you love and love the ones around you.



---
The above links are affiliate links. I receive a very small percentage from each item you purchase via these link, which is at no extra cost to you. If you are thinking about purchasing the book, please think about using one of the links. All money received goes back into the blog and helps to keep it running. Thank you.