A Place Like Home by Rosamunde Pilcher – Book Review
A Place Like Home by Rosamunde Pilcher – Book Review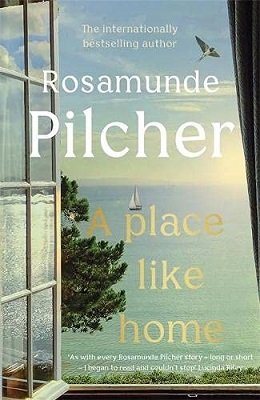 A Place Like Home
Author – Rosamunde Pilcher
Publisher – Hodder & Stoughton
Pages – 304
Released – 18th February 2021
ISBN-13 – 978-1529350340
Format – ebook, paperback, hardcover, audio
Rating – 5 Stars
I received a free copy of this book.
This post contains affiliate links.


Synopsis
A spellbinding collection of fifteen stories from multi-million copy, internationally bestselling modern classic author Rosamunde Pilcher, with an introduction by Sunday Times bestselling author Lucinda Riley.
In The Holiday, a wife surprises her husband of twenty-five years with a trip full of Mediterranean sunshine, red rocks and blue seas in an effort to rekindle the romance they had before children.
Skelmerton takes the reader to the bright spring sunshine and sparkling waves of a Northumbrian village where old flames meet again.
In A Place Like Home, a lonely young woman goes to recuperate in the Scottish countryside after a brief illness. The fruit orchards and fresh sea air offer much needed respite – but not as much as the handsome, mysterious farmer . . .
Each of the fifteen stories is a perfect slice of romance written with warmth and passion, featuring some wonderfully memorable, smart and feisty female characters that will transport the reader to another time and place.
A Place Like Home is a delightful collection of fifteen stories by the late renowned novelist Rosamunde Pilcher, published after her death in 2019.
Each story is individual and unique, though they are all joined by a theme of love that weaves its way through all of the plots.
I have been a huge fan of Rosamunde Pilcher's novels for many years and this book felt like it was the perfect read for me. I love the author's use of descriptive language, the scenery, and the settings which all came alive in my mind. I also adored all the main female characters in each of the stories. They all came across as real and believable making for an enjoyable read.
I have been trying to work out which story is my favourite and I have come to realise that I can't choose one story over another as they all were perfect, enthralling, and engaging. They also all left me feeling happy and relaxed.
A Place Like Home was a definite page-turner and I loved that I could sit and read a complete story in just one sitting. I also didn't have to read them in order if I didn't want to.
I would 100% recommend this book to both my family and friends. Whether you are a fan of Rosamunde Pilcher's other work or not, this delightful collection would suit everyone and for me, it is a must-read book.
Purchase Online From:
---
What did you think of 'A Place Like Home'? Share your thoughts in the comment section below!
---
The above links are affiliate links. I receive a very small percentage from each item you purchase via these link, which is at no extra cost to you. If you are thinking about purchasing the book, please think about using one of the links. All money received goes back into the blog and helps to keep it running. Thank you.
Like us on Facebook – Tweet us on Twitter – Pin us on Pinterest – Join us on Instagram