The Corpse Played Dead by Georgina Clarke – Book Review
The Corpse Played Dead by Georgina Clarke – Book Review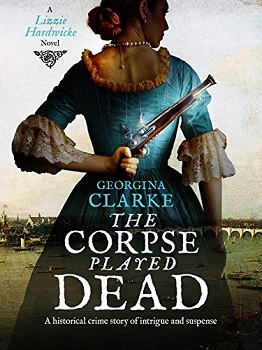 The Corpse Played Dead
Lizzie Hardwicke Book Two
Author – Georgina Clarke
Publisher – Canelo
Released – 19th August 2019
Format – ebook, audiobook
Review by – Stacey
Rating – 5 Stars
I received a free copy of this book.
This post contains affiliate links.
When an undercover assignment for the Bow Street magistrate sees prostitute Lizzie Hardwicke trade Ma Farley's Bawdy House in Soho for life as a theatre seamstress on Drury Lane, it becomes clear quite quickly – what goes on in the wings is much more intriguing than the theatrics being played out on stage…
Soon Lizzie is once again thrown together with the handsome Inspector Will Davenport when a high profile investor is brutally hanged at centre stage and Lizzie discovers the body. With the suspect list rivalling any casting call, Lizzie will have to use every trick she's hidden up her sleeves to unravel the tangled threads and bring the culprit into the spotlight.

Lizzie Hardwicke is back in the second book in the series by Georgina Clarke, the first book 'Death and the Harlot' I reviewed back in May.
In 'The Corpse Played Dead', prostitute Lizzie is once again helping Inspector Will Davenport this time working undercover in Theatre Royal where a series of serious accidents have happened and the owner Mr. Garrick believes someone is trying to ruin him.
Lizzie is now working as a seamstress in the theatre so that she can keep an eye on what is happening and report any problems, though she didn't expect to find a prominent man, albeit an arrogant, nasty man, Lord Hawbridge with his throat sliced dangling above the stage.
With the accidents at the theatre now turning to murder the race is on to find who is trying to ruin Mr. Garrick.
What I love about this series is how likeable Lizzie Hardwicke is. She is ballsy, strong-minded and isn't afraid to speak her mind. We know that she ended up at Ma Farley's Bawdy House in Soho working as a prostitute after her mother died and her father kicked her out. Back in them days, there weren't many working options for women and so Lizzie chose to become a prostitute, one of the best she would tell you.
After what happened in the first book – I won't give anything away – Lizzie has become quite famous and everyone knows her name and the men all want a piece of her, so going undercover wouldn't be easy but with her beautiful dresses swapped for rags, her makeup removed, and hair now limp no-one could recognised the famous 'Lizzie', not even herself.
The whole plot is exciting and you will feel like you have stepped back in time as Georgina Clarke has certainly done her research on the Georgian era. There were plenty of characters all who played their parts beautifully and made you feel like you were watching the story unfold rather than reading about it.
The first book was a page-turner, this one had me invested from the first page to the last and I eagerly returned to it every time I had to put it down. The only things that I missed were Ma and the girls as they didn't really play a part in this book and I would love to of seen more of Davenport too. I now can't wait for book three and to see what happens in Lizzie's life next.
Book Reviewer – Stacey
---
Purchase online from:
---
About the Author

Georgina Clarke has a degree in theology and a PhD in history but has only recently started to combine her love of the past with a desire to write stories. Her Lizzie Hardwicke series is set in the mid-eighteenth century, an underrated and often neglected period, but one that is rich in possibility for a crime novelist.
She enjoys running along the banks of the River Severn and is sometimes to be found competing in half marathons. In quieter moments, she also enjoys dressmaking.
She lives in Worcester with her husband and son, and two extremely lively kittens.



---
What did you think of the book? Share your thoughts in the comment section below!
---
The above links are affiliate links. I receive a very small percentage from each item you purchase via these link, which is at no extra cost to you. If you are thinking about purchasing the book, please think about using one of the links. All money received goes back into the blog and helps to keep it running. Thank you.