Death and the Harlot by Georgina Clarke – Book Review
Death and the Harlot by Georgina Clarke – Book Review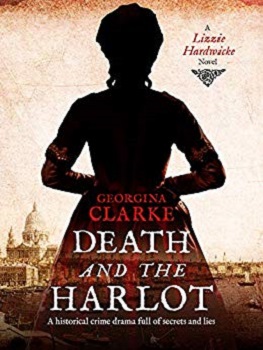 Death and the Harlot
Lizzie Hardwicke Book One
Author – Georgina Clarke
Publisher – Canelo
Pages – 296
Released – 13th May 2019
Format – ebook
Reviewer – Stacey
Rating – 4 Stars
I received a free copy of this book.
This post contains affiliate links.
'It's strange, the way fortune deals her hand.'
The year is 1759 and London is shrouded in a cloak of fear. With the constables at the mercy of highwaymen, it's a perilous time to work the already dangerous streets of Soho. Lizzie Hardwicke makes her living as a prostitute, somewhat protected from the fray as one of Mrs Farley's girls. But then one of her wealthy customers is found brutally murdered… and Lizzie was the last person to see him alive.
Constable William Davenport has no hard evidence against Lizzie but his presence and questions make life increasingly difficult. Desperate to be rid of him and prove her innocence Lizzie turns amateur detective, determined to find the true killer, whatever the cost.
Yet as the body count rises Lizzie realises that, just like her, everyone has a secret they will do almost anything to keep buried…
Georgian London 1759, Miss Lizzie Hardwicke is a working girl, a prostitute, working for Madame Farley who employs girls to entertain the menfolk of London. After an evening with wealthy businessman George Reed, a cloth merchant from Norwich, Lizzie is eager to get rid of him so invites him to the masked ball the brothel is holding the next day as long as he leaves immediately.
Whilst at the ball George comes across a young woman who is staying at the brothel after being kicked out by her father for loving the 'wrong' boy. She is not a working girl, but this doesn't stop George trying his luck. After creating a scene George is thrown out of the brothel and the next day is found murdered at the back of the local tavern, garroted by his own handkerchief. His purse and pocket watch are missing, along with some papers he was carrying.
Constable William Davenport is sent to investigate the murder and soon turns his attention to Lizzie who was one of the last people to see him alive. To help clear her name Lizzie tells the constable that she will find the killer as no-one will suspect her of looking for the killer and she can see and hear things he wouldn't. The constable agrees and the two begin working together.
I have a love/hate relationship with historical fiction so I wasn't sure what I would make of Death and the Harlot as the Georgian era isn't a period I remember reading about before. However, told in the first person from Lizzie Hardwicke perspective the book was most enjoyable, especially as Lizzie's voice comes across strong. She is also a well-educated woman for her age and profession.
The plot has many layers to it as not only do we have the working girls of London and the murder of George Reed we also have a group of highwaymen that are in the area after their leader John Swann was captured, who are causing mayhem. As more information about George's murder comes to light most of the characters we had met early on in the book become suspects. The mystery unfolded nicely with the pieces falling into place as the story progresses.
Georgina Clarke has written a fantastic debut novel that not only kept me wondering throughout who the killer could be and how all the pieces slotted together but it kept me entertained from the beginning until the very end. I am pleased to learn that this is the first in a planned series as I can't wait to meet Lizzie again.
This is a book that will appeal to those who love a good murder mystery as well as those that love historical fiction too.
Book Reviewer – Stacey
---
Purchase online from:
---
About the Author

Georgina Clarke has a degree in theology and a PhD in history but has only recently started to combine her love of the past with a desire to write stories. Her Lizzie Hardwicke series is set in the mid-eighteenth century, an underrated and often neglected period, but one that is rich in possibility for a crime novelist.
She enjoys running along the banks of the River Severn and is sometimes to be found competing in half marathons. In quieter moments, she also enjoys dressmaking.
She lives in Worcester with her husband and son, and two extremely lively kittens.




---
If you enjoyed our review of Death and the Harlot please share your thoughts in the comment section below!
---
The above links are affiliate links. I receive a very small percentage from each item you purchase via these link, which is at no extra cost to you. If you are thinking about purchasing the book, please think about using one of the links. All money received goes back into the blog and helps to keep it running. Thank you.
Posts straight to email via Bloglovin – Like us on Facebook – Tweet us Twitter – Pin us on Pinterest
If you enjoyed our post please feel free to share it using the social media links below.