Code: Revelation by Boris Sanders – Book Review
Code: Revelation by Boris Sanders – Book Review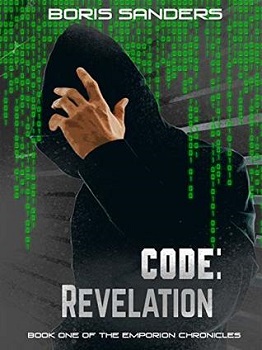 Code: Revelation
The Emporion Chronicles
Author – Boris Sanders
Pages – 209
Released – 20th February 2019
ISBN-13 – 978-1729497036
Format – ebook, paperback
Reviewer – Ed Sheehan
Rating – 4 Stars
I received a free copy of this book.
This post contains affiliate links.
Introverted computer scientist Maximilian Gutenberg had no intention of acquiring a crystal with a being trapped inside, especially not one with the power to save— or destroy—humanity. Her name is Lucy, and she cannot escape her prison until her mission is complete. A mission she keeps secret from everyone, even Max. But she needs his help.
To gain his trust, she offers to get rid of his abusive boss in one week, and get him that promotion he always wanted. She'll make him the hero of his own life, a man worthy of recognition, in exchange for helping her complete her mission. This could be the opportunity of Max's life, but he can't help but wonder if Lucy is as good as she seems… And exactly what mission she must complete to regain her freedom.
Set in a dystopian, futuristic city built miles into the sky, "CODE: Revelation" is a powerful, psychological thrill ride that calls into question the nature of good and evil, and the importance of taking control of your own destiny.

Boris Sanders novel, Code: Revelation, starts by introducing Max (Maximilian Gutenberg), the main character, who joins in a dialogue with his self-built personal robot, "X". Thus the futuristic setting of the book is immediately apparent. Max lives in the city of Emporion, which has fifty levels that reach up into the sky five miles.
Max catches the vertical train to his office where he works for a boss he hates. After a long day of work, Max stops at a shop on his way home and buys his girlfriend, Julia Fernandez, a gold ring to celebrate the second anniversary of their first date. He selects a hinged, flip-top jewelry box to present it.
The second chapter introduces the second major character, Lucy. When Max gets home, he opens the jewelry box and discovers a shard of glass where Lucy resides inside. Lucy first appears in Max's weird dream that night. Lucy next appears in Max's office seeking his help to accomplish a mission. In return she promises to help Max get a promotion, which sets the stage for the rest of the story. Very few things go as planned and have unintended consequences.
The story was intricate and took a very sophisticated imagination. It has been a while since I've read a sci–fi, futuristic novel. The character development and story line are excellent and logically written in an easy-to-follow manner. I highly recommend this novel with a four star rating.
Book Reviewer – Ed Sheehan
---
Purchase online from:
---
About the Author

Boris Sanders started to write at a very early age, in fact, so much so that, for his mother's surprise, the doctor who delivered him insisted to have seen some marks that resembled words inside her womb. His intellect is quite advantaged, having learned 37 languages by the age of 14, of which 35 were created by him, don't have a writing form, and only he can speak and understand them. In addition, he has a photographic memory, as long as an actual photo was taken during the occasion.
In his spare time Boris likes to swim in waterless pools and investigate the mysteries of the universe, while sitting on his comfortable couch, effectively doing nothing. He has a particular taste for olives of any kind.



---
Share your thoughts on Code: Revelation in the comment section below!
---
The above links are affiliate links. I receive a very small percentage from each item you purchase via these link, which is at no extra cost to you. If you are thinking about purchasing the book, please think about using one of the links. All money received goes back into the blog and helps to keep it running. Thank you.