Eventually Julie by Anthea Syrokou – Book Review
Eventually Julie by Anthea Syrokou – Book Review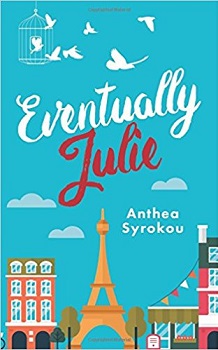 Eventually Julie
Author – Anthea Syrokou
Publisher – Createspace
Pages – 330
Released – 14th May 2017
ISBN-13 – 978-1545341001
Format – ebook, paperback
Reviewer – Selina
I received a free copy of this book
Post contains affiliate links
Julie has had enough! At 27, she feels overwhelmed with the "shoulds" her family pile on her, and an office job that she detests. It doesn't help that she's carrying her "baggage of unfinished business" with her, weighing her down even more… making it impossible to see clearly and dig herself out of the rut her life has become.
When she finally decides to take action, a chance encounter presents her with an opportunity to deal with her messy past, so she sets off to Paris to find the answers that can set her free, and live a life full of meaning and passion. Julie loses herself in the sights and smells, and in the beauty of travelling in one of the most romantic cities in the world. She opens her heart to love, and begins to be true to herself… until she discovers a secret that sets her right back to where she began; uncertain about life — about love!
When Julie arrives back home to Sydney, she needs to make some serious decisions, or risk missing out on true love… and finally having the career she always wanted.
Join Julie and her delightful and witty friends on a journey of fun, adventure, and passion. Set in and around Sydney, as well as London and Paris, Eventually Julie is a "finding yourself" romance that deals with being stuck in a rut and eventually finding the right ingredients to live a life that is true.
Review
This has been one of the nicest books that I have read all year! Chick Lit at its finest I'd say! There is so much about this book to like.
Julie is suddenly made redundant from her job, has issues with her sister and decides she needs to start living life. After a family trip to Hunter Valley, Julie bumps into her first love Scott, both realising there is some unfinished business they arrange to meet up.
One meeting then leads to a trip London and Paris. It was refreshing to see London through the eyes of a tourist and that is one point in the book I thoroughly enjoyed. I loved how Anthea Syrokou sets the scene in Paris, allowing us to take in vividly the sounds, smells and Parisian delights that are to be had. Paris and London will leave you in a world of your own.
Back home in beautiful Sydney, Australia, Julie has many choices to make. Will she follow her heart or will she take a leap of faith? Will first love Scott have her heart or will ever present George finally capture her heart?
Julie really came into her own in this story and I felt we had been on a journey with her, she matured and decided to take risks. She had great best friends in Maria and Cassandra. With a whole host of characters to be had, this forms one of those stories that will stay with you for a long time and one I hope to pick up again in the future. I hope there is not long wait for the next book as I cant wait to read more of the lives of this fabulous group of people.
I was actually routing for the ending that was and called this early on in the story.
One of my favourite quotes in the book is when Julie receives a gift of a bird figurine resting on a branch. Work colleague George tells her, "Just don't hold on too tightly to the branch. If it's too difficult to hold onto it, it may not be the right branch."
Reviewed by Selina

---
About the Author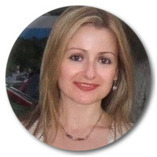 Anthea Syrokou is an author who grew up and resides in Sydney, Australia. Her love for writing was planted at a young age when she studied Greek mythology. Anthea's love for literature continued well into her teenage years when she enjoyed reading novels by many of the great English writers.
As a young adult, she immersed herself in reading women's contemporary fiction and writing about topics, that many could relate to, in a witty, light-hearted way, which became a passion — one that she takes very seriously.
Anthea has a BA degree, majoring in psychology and industrial relations, and a diploma in counselling. She also studied Greek literature at university and has worked in direct marketing, and insurance and investments.
Anthea is currently working on her new novel, and is also writing articles and posts on everyday issues.
When she isn't writing or reading, Anthea enjoys travelling, yoga, spending time with her family, and escaping to the vineyards. A quiet house with some jazz playing in the background, surrounded by a few lit scented candles is her idea of relaxation. Even though Anthea dreams about hosting the "perfect" dinner party, she is more likely to be found at a cosy, candlelit restaurant. She lives with her husband and their two sons, and often jokes that she may be the only writer who doesn't own a cat.
Anthea is also a member of the Australian Society of Authors.





---