The Thirteenth Day of Christmas by David Allen Voyles – Book Review
The Thirteenth Day of Christmas by David Allen Voyles – Book Review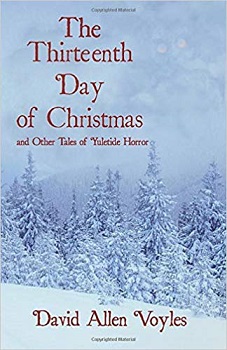 The Thirteenth Day of Christmas
and Other Tales of Yuletide Horror
Author – David Allen Voyles
Publisher – Gestalt Media
Pages – 296
Released – 13th November 2019
ISBN-13 – 978-1951535148
Format – ebook, paperback
Review by – Julie
Rating – 4.5 stars
I received a free copy of this book.
This post contains affiliate links.
Remember that line from "It's the Most Wonderful Time of the Year"? "There'll be scary ghost stories and tales of the glories of Christmases long, long ago." Telling ghost stories during the Yuletide season was a popular tradition during Victorian times, and David Allen Voyles revives the tradition with his collection of twelve original, frightening ghost tales and one novella, all set in the Christmas season.
You'll find a wide array of supernatural entities within The Thirteenth Day of Christmas and Other Tales of Yuletide Horror, from traditional ghosts to modern twists on familiar Christmas characters like Santa and Krampus. You'll travel to a modern hotel in the Arctic Circle that's made entirely of ice, as well as to a nineteenth century village in Bulgaria whose citizens have a unique yearly ritual with an enigmatic toymaker. There are ghostly mysteries to be solved, wicked children to be punished, haunted graveyards, possessed dolls, and even a humorous account of Santa's visit to a haunted house on Christmas Eve.
So turn down the lights, grab a cup of eggnog, and light the Yule log as you prepare to read these Christmas ghost stories. Just remember as you read them, you can cry and you can pout, but one thing is for sure–you better watch out!

'Thirteen Days of Christmas' is an anthology by horror genre author, David Voyles. He gives us twelve short stories and one novella based around the Christmas theme. Most are written in the third person and the past tense, set at different times and in different places.
This format is an incredibly difficult discipline to master as there is little time for scene-setting, back-story, character or plot development. Tales need to be succinct but at the same time high-impact, to draw the audience in quickly and I think overall, the author has delivered on this brief.
There are themes and messages running through this collection, with evil often being punished and justice being served. With conflict and resolution to each story taking a no more than a few pages, David Voyles has captured the essence of each plot in a paragraph or two, so that the reader knows which characters their sympathies should lie.
Perhaps inevitably, I engaged with some stories more than others and I particularly appreciated 'The Toymaker' and 'Christmas Eve in the Graveyard'. I'll admit to not fully understanding 'Last Minute Shopping' and I did find some of the tales slightly gory. The format in most cases is similar; everything seems normal, only for strange things to start to happen and then a terrifying conclusion.
I particularly liked the novella at the end of the book, 'The Thirteenth Day of Christmas'. Voyles has shown skill in developing his characters and with a combination of foreshadowing and a gradual ratcheting up of tension, he has managed to create an atmosphere so psychologically terrifying, that the reader can completely understand how someone can be pushed beyond the limit of their endurance.
Much of the criteria I apply when assessing a novel is obviously not applicable to this format but if you're a fan of horror, then this collection will certainly tick all the boxes. This is David Voyles' debut book and I think it bodes well for his future career as an author. I award four-and-a-half stars.
Book Reviewer – Julie
---
Purchase online from:
---
About the Author

Some of the tales in David Allen Voyles' first collection of original horror stories The Thirteenth Day of Christmas and Other Tales of Yuletide Horror were those he told while conducting tours for his ghost tour company Dark Ride Tours in Asheville, NC. Playing the role of gravedigger/storyteller Virgil Nightshade, Voyles entertained guests as they were transported to various spooky sites in a 1972 Cadillac hearse converted for that purpose.
Having taught literature for thirty years, Voyles is no stranger to weird tales and horror fiction in general. His love for authors such as Ray Bradbury, H.P. Lovecraft, Robert Bloch, Ramsey Campbell, Stephen King, Neil Gaiman, and Shirley Jackson as well as a lifetime obsession with Halloween insured that it was just a matter of time before he tried his hand at publishing his own tales of terror.



---
What did you think of The Thirteenth Day of Christmas? Share your thoughts in the comment section below!
---
The above links are affiliate links. I receive a very small percentage from each item you purchase via these link, which is at no extra cost to you. If you are thinking about purchasing the book, please think about using one of the links. All money received goes back into the blog and helps to keep it running. Thank you.