Ronaldo: The Vixen Pederson Workshop by Maxine Sylvester – Book Review
Ronaldo: The Vixen Pederson Workshop by Maxine Sylvester – Book Review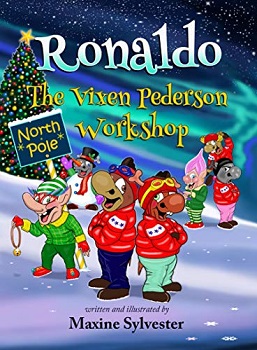 Ronaldo: The Vixen Pederson Workshop
Ronaldo the Flying Reindeer Book Four
Author – Maxine Sylvester
Pages – 210
Released – 15th November 2019
Format – ebook
Review by – Stacey
Rating – 5 Stars
I received a free copy of this book.
This post contains affiliate links.
Destination North Pole! Santa's top reindeer, Vixen Pederson, is hosting a teamwork workshop—and Ronaldo has his flying goggles packed and ready to go!
In training for a sleigh race, the cadets must work together to win the ultimate prize—Jingle Bells! But Ronaldo's dream turns into a nightmare when Cupid joins his side. She's the worst flying cadet, ever! And his squabbling teammates are plotting to put her out of the race.
But Cupid isn't who she appears to be. And when Ronaldo discovers she is the granddaughter of a world famous flying champion, he suspects she is guarding a secret. And the only way to lead his team to victory—is to find out what it is.
The fourth book in the Ronaldo the Flying Reindeer series by Maxine Sylvester sees Ronaldo and his friends heading to Vixen Pederson's Workshop for four days whilst they train to be the best flying reindeers whilst working as a team.
Ronaldo isn't happy though when his team is given the worse flyer of all the reindeer, Cupid. Whilst walking through the academy one day Ronaldo come across a painting on the wall of Cupid's grandmother who used to be the lead reindeer for Santa. He's confused as to why such a talented reindeer would have a granddaughter like Cupid, perhaps there is a reason for her bad flying.
Ronaldo must work out what the problem is quickly though as his teammates are plotting to get rid of her.
Ronaldo: The Vixen Pederson Workshop is the third book in the series that I have read this year. I always love how enjoyable the books are and how many life lessons they include as well as a great story.
I think this one might be my favourite though, especially with how festive it is and it includes lashings of hot chocolate and carrot cake. MMM, it makes you feel hungry whilst reading it, oh and I want to go to a place that has over 300 different hot chocolate flavours.
The books are all good clean fun for young/middle-grade children and have wonderful illustrations throughout that will make kids giggle.
If you are looking for a festive book for your child then this is the one. Whilst I always believe starting a series at book one is the best, this is a book that can be read as a standalone too.
Book Reviewer – Stacey
---
Purchase online from:
---
About the Author

Maxine Sylvester was born in London, England. She grew up with a passion for Winnie the Pooh and Paddington Bear. She also loved anything Disney and enjoyed drawing the characters.
Maxine's love of 'fun' art grew and she had the privilege of being mentored by cartoonist and caricaturist, Steve Chadburn. She completed further studies in children's book illustration with talented artist and illustrator, Jan Nesbitt.
She has just updated all the illustrations for The Reindeer Flying Academy – they are now all in glorious colour.






---
What did you think of Ronaldo: The Vixen Pederson Workshop? Share your thoughts in the comment section below!
---
The above links are affiliate links. I receive a very small percentage from each item you purchase via these link, which is at no extra cost to you. If you are thinking about purchasing the book, please think about using one of the links. All money received goes back into the blog and helps to keep it running. Thank you.
Like us on Facebook – Tweet us on Twitter – Pin us on Pinterest