The Little Perfume Shop off the Champs-Elysees by Rebecca Raisin – Book Review
The Little Perfume Shop off the Champs-Elysees by Rebecca Raisin – Book Review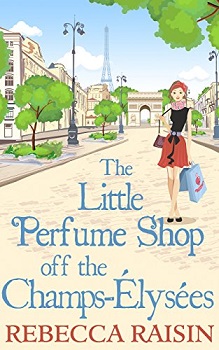 The Little Perfume Shop off the Champs-Elysees
The Little Paris Collection Book Three
Author – Rebecca Raisin
Publisher – HQ Digital
Pages – 251
Released – 30th March 2018
Format – ebook, audio
Reviewer – Stacey
Rating – 5 Stars
I received a free copy of this book
Post contains affiliate links.
What is French for falling in love?
When Del leaves small town America to compete in a perfume competition in Paris, she thinks it is just the next step on her five-year-plan. It's an exciting opportunity. What started out as just a dream for Del and her twin sister is nearly in her grasp. If she wins this competition, they are on their way to opening their very own perfume boutique!
Arriving in Paris, watching the sun glinting off the Seine and wandering the Champs-Elysees, Del discovers the most perfect perfumery she's ever seen. Yet, as the competition dawns Del realises that whilst she might have had the best nose in her small village, her competitors seem to know more than she could ever have dreamed. This competition isn't going to be easy…
Del has the romance of Paris to sweep her away from her worries, but as the competition heats up, so does her desire for that which she cannot have! If only the dashing owner Sébastien didn't smell so seductive, look so handsome and make her heart flutter like it never has before. They say love smells as sweet as a red rose in bloom, but Del would tell anyone that true love can't be bottled – it's beautiful and unique to everyone…even herself. With everything on the line for her future, can Del really let a little attraction get in the way of securing her dreams?

Del has always had a nose for a beautiful scent. She and her twin sister decided they wanted to open a perfumery in New York together. The shop had been chosen, and everything was running smoothly, until at last-minute her sister fell in love and ditched the idea, leaving Del unable to afford the shop on her own.
Del then finds out about a perfume competition that would give her enough funds to open her own shop, running in Paris, she applies and is lucky enough to be one of the finalist. It takes some courage to go as she normally has her sister at her side for everything, but she heads over from America to France to try an win. However, there are some seriously tough competitors, and a few who don't want to play by the rules. Will Del come away from Paris smelling of roses?
I love Rebecca Raisin's books, yet this is the first in 'The Little Paris Collection' that I have read. I can confirm it can most certainly be read as a stand-alone, and that now I'm going to have to read the other two, as this book was so good.
What I love about Ms. Raisin's books is how much of her heart and soul she puts into them. You can tell by how easy the words pour off the pages, and how effortless they feel to read, just how passionate she is about her work, and in this instance, how knowledgeable she is about perfume too.
The characters are well-developed, and Del was such a lovely character to get to know. She knew what she wanted in life and how to go about getting it, yet she wasn't prepared to stoop to some of the other competitors levels to win the competition. If she was going to win it was on her own merits and know how.
The Little Perfume Shop off the Champs-Elysees is a book that will have you imagining all the glorious scents that are made. It was an absolute joy to read and I devoured it in one sitting.
Reviewed by Stacey
---
Purchase online from:
---
About the Author

Rebecca Raisin is a true bibliophile. This love of books morphed into the desire to write them.
She's been widely published in short story anthologies, and in fiction magazines. And now she is focusing on writing romance.
Rebecca aims to write characters you can see yourself being friends with. People with big hearts who care about relationships and believe in true love.





---