Sunshine & Secrets by Daisy James – Book Review
Sunshine & Secrets by Daisy James – Book Review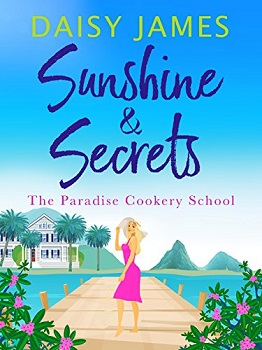 Sunshine & Secrets
Paradise Cookery School
Author – Daisy James
Publisher – Canelo
Pages – 165
Released – 19th March 2018
Format – ebook
Reviewer – Stacey
Rating – 5 Stars
I received a free copy of this book
Post contains affiliate links.
When newly heartbroken, michelin-starred chef Millie Harper is offered a job overseeing the setup of The Paradise Cookery School she jumps at the opportunity. Leaving London and her memories of heartbreak behind she hops on a plane to the hilltop cocoa plantation in St Lucia.
But this beautiful island break might be more work than she'd expected…. With only two weeks to have the kitchen installed, cocoa pods going missing from the plantation and the notoriously relaxed island workmen to contend with, she's going to need some help. Gruff but charming estate manager Zach Baxter, is only too happy to offer his opinions. As the two clash heads can they remain focussed on the job in hand and get the cookery school finished in time?
Pack your bags and jump right into the sun and secrets of The Paradise Cookery School.

Millie Harper is at the airport waiting to check in for her flight to Nice in France, when she receives a phone call from her sister Jen. An opportunity has arisen to oversee the renovations of 'The Paradise Cookery School' in St. Lucia, as the owner, TV Chef Claudia, has broken her leg and Jen has put Millie forward for the job.
Unsure at first, Millie agrees to go. All she has to do is go to the Caribbean and make sure the workmen get the kitchen ready on time for the guests, as well as taste testing the new recipes. Unfortunately nothing is ever that simple, starting with a delayed flight and arriving to a downpour, in which she has to walk to the villa as the taxi driver refuses to take her all the way.
This is just the start of what turns out to be an eventful time for Millie!
'Sunshine and Secrets' is a fun, energetic novel that whisks you away to a gorgeous sunshine filled island and has you engaged in one of the most interesting characters lives I've had the pleasure of reading this year.
This is a book for the senses. Not only are you dazzled by the St. Lucian scenery, you are also treated to some of the most delicious food I've read about. There was definitely plenty of mouth-watering moments.
Sunshine & Secrets was a pure joy to read, and is as good on the inside as the outside looks.
Reviewed by Stacey
---
Purchase online from:
---
About the Author

Daisy James is a Yorkshire girl transplanted to the north east of England. She loves writing stories with strong heroines and swift-flowing plotlines. When not scribbling away in her summerhouse, she spends her time sifting flour and sprinkling sugar and edible glitter.
She loves gossiping with friends over a glass of something pink and fizzy or indulging in a spot of afternoon tea – china plates and teacups are a must.



---