The Stopping Places by Damian Le Bas – Book Review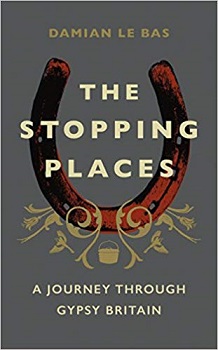 The Stopping Places
A Journey Through Gypsy Britain
Author – Damian Le Bas
Publisher – Vintage
Pages – 320
Released – 2nd May 2019
ISBN-13 – 978-1784704131
Format – ebook, paperback, hardcover, audio
Review by – Clive
Rating – 4 Stars
I received a free copy of this book.
This post contains affiliate links.
'I needed to get to the stopping places, so I needed to get on the road. It was the road where I might at last find out where I belonged.'
Damian Le Bas grew up surrounded by Gypsy history. His great-grandmother would tell him stories of her childhood in the ancient Romani language; the places her family stopped and worked, the ways they lived, the superstitions and lores of their people. But his own experience of life on the road was limited to Ford Transit journeys from West Sussex to Hampshire to sell flowers.
In a bid to better understand his Gypsy heritage, the history of the Britain's Romanies and the rhythms of their life today, Damian sets out on a journey to discover the atchin tans, or stopping places – the old encampment sites known only to Travellers. Through winter frosts and summer dawns, from horse fairs to Gypsy churches, neon-lit lay-bys to fern-covered banks, Damian lives on the road, somewhere between the romanticised Gypsies of old, and their much-maligned descendants of today.
In this powerful and soulful debut, Damian le Bas brings the places, characters and stories of his to bold and vigorous life.

I must confess that my knowledge of Gypsies/Romanies/Travellers was limited. Yes, they tell fortunes, they try to sell "lucky heather" and they sometimes fill laybys with large caravans, leaving behind a lot of rubbish.
As the synopsis says, Damian Le Bas has a pedigree as a true Romany despite his education at a private school and Oxford University. Who better to open up their world to us?
The Stopping Places takes the form of a road trip around the UK and France by Le Bas to find those parking areas special to Gypsies for a variety of reasons. Sometimes linked with work opportunities, others are traditional meeting places. During the trip he recalls the history of the Romany people from their origins in Hindustan and their migrations across Europe. I particularly enjoyed the information about the Romani language and I was surprised how many of their words were known to me.
It was not just the language that was familiar to me, some of the Sussex country ways also featured in my upbringing including his mother's dish, "rasher pudding" which we called bacon roly-poly. Le Bas, with his journalistic experience writes in a clear informative style. Despite the factual nature of the material, I never found it dull.
As I suspected, life on the road is not always fun. The Stopping Places describes many hardships such as cold and damp, the uncertainty of income and the ever increasing challenges to find
somewhere welcome to stay. There is also the constant suspicion and hostility from the non-traveller communities. Sleeping in a van parked in a remote spot can be rather scary. The book
also has a running theme of sadness for a way of life that will never return.
I found The Stopping Places informative and enjoyable, worthy of four stars. If you enjoy this book can I suggest All Change!: Romani Studies Through Romani Eyes, Le Bas's collection of essays by Romani writers. And in case you too have seen the after effects of Traveller encampments, Damian Le Bas will assure you that true Romany people will leave nothing behind!
Book Reviewer – Clive
---
Purchase online from:
---
About the Author
Damian Le Bas was born in 1985 into a long line of Gypsies and Travellers. He was raised within a network of relations who taught him how to ride and drive ponies, tractors and trucks, sing melancholy cowboy ballads and speak the thousand-year-old Romani tongue. He was awarded scholarships to study at Christ's Hospital and the University of Oxford. Between 2011 and 2015 he was the editor of Travellers' Times, Britain's only national magazine for Gypsies and Travellers. The Stopping Places is his first book.
Damian lives and works mostly in Kent, with his wife (the actor Candis Nergaard); and Sussex, where he grew up and where his nan – who taught him the old Romany Travellers' little-known routes and ways – both still live
---
What did you think of the book? Share your thoughts in the comment section below!
---
The above links are affiliate links. I receive a very small percentage from each item you purchase via these link, which is at no extra cost to you. If you are thinking about purchasing the book, please think about using one of the links. All money received goes back into the blog and helps to keep it running. Thank you.