The Central Buttress of Scafell by Various Authors – Book Review
The Central Buttress of Scafell by Various Authors – Book Review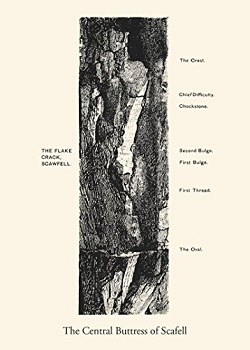 The Central Buttress of Scafell
A Collection of Essays
Author – Various Authors
Publisher – Millrace
Pages – 192
Released – 1st November 2004
ISBN-13 – 978-1902173160
Format – ebook, hardcover
Reviewer – Clive
Rating – 5 Stars
I received a free copy of this book
Post contains affiliate links.
Few climbs are awarded the honour of being reduced to their initials. CB, the Central Buttress of Scafell, considered for years to be the hardest climb in the British Isles, is one of them. 'Have any of you ever noticed a bayonet-shaped crack descending from the skyline about midway between Moss Ghyll and Botterill's Crack on Scawfell? No? Has it never occurred to you that between these two climbs there is a stretch of nearly two hundred feet of unscaled rock? No?' – Ashley P Abraham, 1907.
Despite this attempt by the president of the Fell & Rock Climbing Club to goad the younger generation into action, it was another seven years before Siegfried Herford made the first ascent of Central Buttress. Ten historic essays, reproduced by courtesy of the FRCC and the Yorkshire Ramblers' Club, chart the stages by which this legendary route was besieged, conquered and finally, apparently, domesticated. Or was it?
In his introduction and commentary, Graham Wilson assesses the growth of the myth, the challenges of the climb and its status one hundred years on. And, as a coda, a twenty-first-century account by a young female climber reflects on the achievements of those who went before.

The National Trust estimate that each year at least 100,000 people climb Scafell Pike from Wasdale and tens of thousands more will ascend from Borrowdale, Langdale and Eskdale. Most of those walkers will stand at the top and will look, mist permitting, across Mickledore at Scafell. Virtually all will notice the seemingly impenetrable cliffs and then turn away; after all, they are standing at the highest point in England, why should they be interested in second best.
Those who have more knowledge and experience may seek Lords Rake, a steep narrow gully of loose scree where one stride up can easily be followed by a much longer slide down. The true rock climber will however see more because for the experienced, brave and properly equipped climbers there are a few routes up, the hardest of which is The Central Buttress.
From this introduction you will deduce that this is an extremely specialised book as it contains nothing but essays about climbing The Central Buttress. That said, if you are a lover of the area and if you are interested in rock climbing then you will enjoy this book.
Mine is a hardback copy with a classy looking parchment dustcover over a plain brown cover. At 6.5 inches by 5 inches it is pocket sized and stands neatly alongside the Wainwright Pictorial Guides on my bookshelf.
But the class does not stop at its appearance. Here we have a selection of thoughtful and descriptive essays written around 100 years ago by generally upper class men who filled their descriptions with delightful language reminiscent of that era. There are wonderful images of long evenings smoking by the fire and harsher images of damp days when many of the team would stand around for hours while the leaders would inch their way up near vertical faces to reach somewhere that men had almost certainly never reached before.
My understanding would have been improved by more illustrations which are confined to a couple of sketches. However, that would to some extent detract from the beauty of the book because these were written as essays aimed at the knowledgeable and that is exactly what has been reproduced. With a few internet searches I found several photographs and some interesting definitions to aid my understanding.
The book also contained some reminders of the hardship of The Great War when some 30% of the climbing club members were killed in action. Presumably young men who were mentally and physically fit enough for rock climbing were useful for the most daring of warfare. The passage goes on to explain the origins of the well visited monument of Great Gable.
How do I rate such a specialised selection? The majority of readers will never be interested in such a book but for the few who are interested in rock climbing, the Lake District and early 20th Century adventure based literature then this book will be the one for you and deserves nothing less than five stars.
Reviewed by Clive
---
Purchase online from:
---