The Love Delusion by Nicola Mostyn – Book Review
The Love Delusion by Nicola Mostyn – Book Review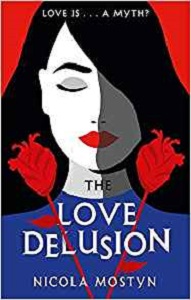 The Love Delusion
Author – Nicola Mostyn
Publisher – Piatkus
Pages – 384
Released – 5th September 2019
ISBN-13 – 978-0349415710
Format – ebook, paperback
Review by – Stacey
Rating – 4 Stars
I received a free copy of this book.
This post contains affiliate links.
LOVE IS . . . A MYTH?
That's the belief of Frida McKenzie, devoted member of The Love Delusion movement, determined to cure humans of our ridiculous obsession with love.
But there's something she's forgotten…
When Frida finds a mysterious picture of herself with a man she barely knows, the certainties she has about her world begin to unravel.
What are the sinister roots of the cult that seems to have gripped humanity? Why can't she remember anything about her life before – including the strange(ly attractive) man in that picture? And just when exactly did she take up fantasy role play?
As a battle approaches that's been millennia in the making, it's beginning to look like there's only one question that really matters: if love conquers all, what happens when it's gone?

The Love Delusion is the second book in a series by author Nicola Mostyn, the first book being 'The Gods of Love'. Unfortunately I haven't read book one and to be honest I didn't even know it existed until I was partway through this book. However, I can honestly say that this book worked fine as a standalone.
The plot begins with Frida and her boyfriend Dan being chased in a car. They are nearly at their 'safe zone' when they are caught. They both commit to finding each other in the future. Why they have been tracked and by whom are not revealed at this time.
The story then moves forward two years where both of the characters have had their memories of their past lives removed. Freida is a divorce lawyer working for 'The Love Delusion' a movement that is about protecting the rights of single people. They convince people that love is a myth and that to have a truly happy life you need to be single.
Dan is a protester against the movement who confronts Freida about her involvement. The two feel some sort of connection but can't understand why. That is until Freida finds a photo of herself and Dan having a picnic years earlier. She also finds a bottle of liquid with a note telling her not to tell Dan about it.
Freida travels to Dan's flat to confront him about the photo. She believes it's been mocked up to discredit her and have her removed from the movement but when more evidence comes to light the pair have to realise that something far more sinister might be at play, but what?
The Love Delusion is a full-on action-packed book right from the first page. I was intrigued enough to want to know who these two people were are why were they being chased and kidnapped.
The whole plot featuring immortals, some good, some evil and is exceptionally well constructed. I'll be honest that when it comes to Gods I know them by name but what they did and what powers they had were never something I've really had an interested in, so when I realised that the book featured these immortals my heart sank a little and I wondered how much enjoyment I was going to get from the rest of the book. I need not of worried though.
I love how different this book is to anything I've read before. The characters were all intriguing and I especially enjoyed getting to know kick-ass Psyche. Freida and Dan were both easy to like and enjoy their company too.
Personally whilst this book works as a standalone I would suggest reading 'The Gods of Love' first so that you get the whole backstory. Plus, what could be better than having one amazing book to read, but two amazing books – I am assuming that book one is as fabulous as this one.
Book Reviewer – Stacey
---
Purchase online from:
---
About the Author

Nicola was born and lives in Manchester. She has a Master's degree in English Literature and has spent more time immersed in the works of Philip Larkin than is strictly healthy. Her inspirations are Stephen King, Tina Fey and Joss Whedon and as such she's a big fan of the funny – both ha ha and peculiar.
Her debut, The Gods of Love, was shortlisted for The Writers' Guild Best first novel. The Love Delusion is the companion novel. As well as writing novels, she works as a creativity coach and has written a non-fiction book for aspiring writers, Seven Creative Gremlins.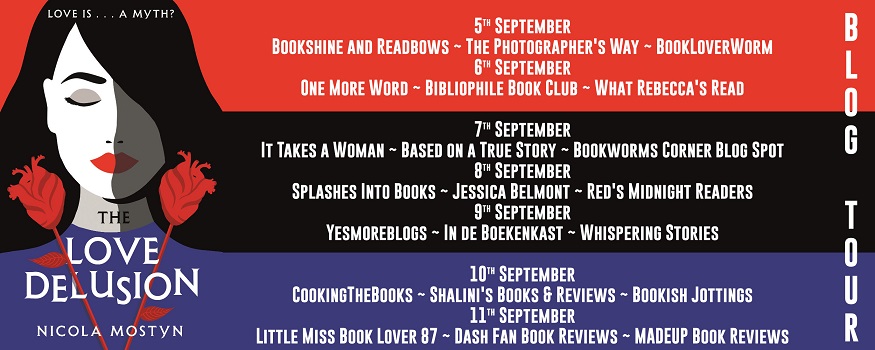 ---
What did you think of the book? Share your thoughts in the comment section below!
---
The above links are affiliate links. I receive a very small percentage from each item you purchase via these link, which is at no extra cost to you. If you are thinking about purchasing the book, please think about using one of the links. All money received goes back into the blog and helps to keep it running. Thank you.