Flowers on Her Grave by Jennifer Chase – Book Review
Flowers on Her Grave by Jennifer Chase – Book Review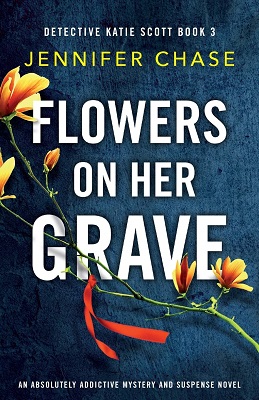 Flowers on Her Grave
Detective Katie Scott Book Three
Author – Jennifer Chase
Publisher – Bookouture
Pages – 328
Released – 24th March 2020
ISBN-13 – 978-1786818164
Format – ebook, paperback, audio
Review by – Stacey
Rating – 4 Stars
I received a free copy of this book.
This post contains affiliate links.


Detective Katie Scott has never seen two people more in love than her aunt and uncle as they danced on the decking the night of their wedding anniversary party. But the next morning, when Katie finds her aunt's body sprawled across the floor, that perfect image is shattered forever.
All fingers point to Katie's uncle, Pine Valley's beloved sheriff and protector – after all, his prints are all over the antique knife found at the scene. Grieving, but certain of her uncle's innocence, Katie is consigned to the cold case division after she's discovered searching the house for clues. Does someone want to keep her as far away from this investigation as possible?
Ignoring warnings from her team, Katie digs into her uncle's old case files and discovers photographs of the body of a young girl found tied to a tree after a hike in search of a rare flower. Her body is covered with the same unusual lacerations her aunt suffered. Katie knows it can't be a coincidence, but every lead she follows takes her to a dead end.
Moments before the sheriff is arrested, Katie realises that a single piece of thread she found at the crime scene could be the missing link that will stitch old crimes to new. But how can she prove her uncle's innocence without throwing herself directly into the line of fire? She doesn't have a choice, he's the only family she has left…

Detective Katie Scott is back in the third book in her series. This time the case is personal.
Katie is still working in the cold case department of the Pine Valley police force but her partner McGaven has now moved to part-time. After attending her Aunt and Uncle's wedding anniversary party, Katie calls the next day to go for a run with her uncle, a family tradition.
After initially getting no answer at their house her uncle eventually opens the door covered in blood. A quick sweep of the house reveals that her aunt is dead in the laundry room. Her uncle swears he didn't kill his wife. However, all the evidence points in his direction. Katie has been told to stay away from the case but as her uncle is the only family she has left she is not going to let him go down for something he didn't do, especially when her aunt's death has very similar circumstances to a cold case.
I had read the first two books in the Detective Katie Scott series and enjoyed them both so I couldn't wait to get my hands on this one. I find Katie to be a great character. Yes, she has some PTSD that she is working through having just come out of the army in the first book and she can be a bit hot-headed at times and reckless but this is what I like about her, she makes for good reading.
I thought the book was a little slow to get going this time and I was waiting for the murder to occur to get the plot surging ahead and showing Katie at her best. Once she is on the trail of a killer there is no stopping Katie and with this being personal bring the real killer to justice was all she had in her mind, as well as trying to connect the dots to an old case.
The book was fast-paced, thrilling and I enjoyed every minute of it. I was glad to see that Cisco, Katie's ex-army dog is still involved in her detective work. If you haven't read the first two in the series I would suggest doing so before reading this one. It can be read as a stand-alone but you won't get the full atmosphere of the book given that we get to know her aunt and uncle in previous books.
Overall, Flowers on Her Grave is a fab read and I can't wait for the next in the series.
Book Reviewer – Stacey
---
Purchase online from:
---
About the Author

Jennifer Chase is a multi award-winning and best-selling crime fiction author, as well as a consulting criminologist. Jennifer holds a bachelor degree in police forensics and a master's degree in criminology & criminal justice. These academic pursuits developed out of her curiosity about the criminal mind as well as from her own experience with a violent psychopath, providing Jennifer with deep personal investment in every story she tells.
In addition, she holds certifications in serial crime and criminal profiling. She is an affiliate member of the International Association of Forensic Criminologists, and member of the International Thriller Writers.
Jennifer Chase was born and raised in California and still lives there with her husband, dogs and cats. In addition to writing and consulting, Jennifer enjoys spending time outdoors, both at the beach and hiking, and engaging in some amateur photography.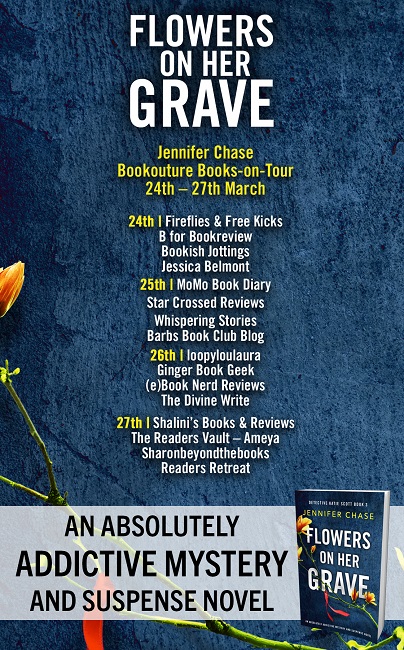 ---
What did you think of Flowers on Her Grave? Share your thoughts in the comment section below!
---
The above links are affiliate links. I receive a very small percentage from each item you purchase via these link, which is at no extra cost to you. If you are thinking about purchasing the book, please think about using one of the links. All money received goes back into the blog and helps to keep it running. Thank you.
Like us on Facebook – Tweet us on Twitter – Pin us on Pinterest