One Italian Summer by Lori Nelson Spielman – Book Review
One Italian Summer by Lori Nelson Spielman – Book Review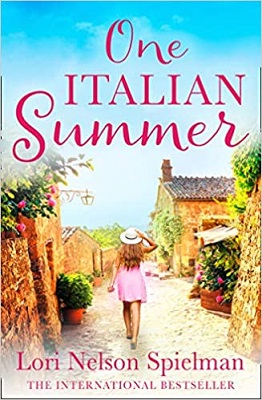 One Italian Summer
Author – Lori Nelson Spielman
Publisher – Avon
Pages – 384
Released – 30th April 2020
ISBN-13 – 978-0008318062
Format – ebook, paperback, audio
Review by – Stacey
Rating – 5 Stars
I received a free copy of this book.
This post contains affiliate links.


Three women. One family curse. The summer of a lifetime.
For generations, no second-born daughter in the Fontana family has married. Lucy desperately wants to find love, but for her cousin Emilia, their family curse is a blessing in disguise.
But then their Great Aunt Poppy declares she'll reunite with her long-lost love on her eightieth birthday – and break the curse once and for all.
And so the three women embark on a journey to Tuscany to fulfil Poppy's last wish. But the secrets they uncover there could change their family forever…

There was a curse put upon the Fontana second-born daughters which has come true for generations gone meaning that the second born daughters will not find love. For cousins Lucy and Emilia who are the second-born they really hope that the curse isn't real, however, they also haven't found love as yet.
When their elderly Aunt Poppy invited them to go travelling with her in Italy the women are desperate to go but have some hurdles to get over first.
Could Poppy be the one to help them break the curse and can the women find love or will they be another statistic on their family tree?
I seem to be having a run of books set in Italy at the moment, which is good as I visited the country for the first time back at the beginning of February. What I first noticed about One Italian Summer is how easy to read it was. The book captivated me, especially once we are within Italy and all the atmospheric sights, sounds, and smells are brought to the forefront. It also has a remarkable cast of characters that you just can't help liking.
The plot moves back and forth in time and not only covers romance, love, loss, and disputes it also shines a light on what is deemed to be a curse put on the Fontana second-born daughters for generations.
The story is told from two family members point of views, Emilia (including Lucy), and Aunt Poppy who has invited the girls to Italy to go travelling with her and to end their journey with celebrations for her eightieth birthday. The book also moves back and forth in time.
I became so engrossed in the plot that the time just seemed to slip away. Spending all my hours at home at the moment because of the virus meant that I could relax in my garden with the book and just read away, although it did feel like I was there travelling with the women. The characters all worked well together and I loved their adventures and little secrets. I was also desperate to know what had gone on in the lives of Poppy and her sister to leave them not on speaking terms for decades.
This is a book that had me rooting for the women, I wanted them to find happiness and love as well as become more self-aware and confident. It is a beautiful read and I loved every minute of it.
Book Reviewer – Stacey
---
Purchase online from:
---
About the Author

Lori Nelson Spielman is a former speech pathologist, guidance counselor, and teacher of homebound students. She enjoys fitness running, traveling, and reading, though writing is her true passion.
Her first novel, The Life List, has been published in over thirty countries and optioned by Fox 2000. Her second novel, Sweet Forgiveness, was also an international bestseller. Her third book, The Star-Crossed Sisters of Tuscany, releases November 17, 2020. She lives in Michigan with her husband and their very spoiled puppy.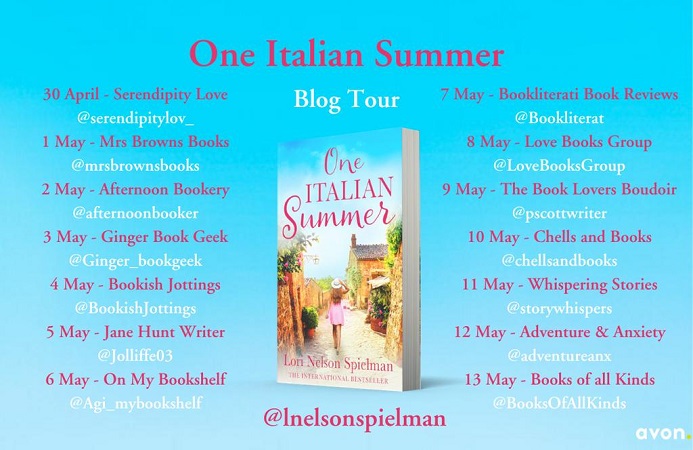 ---
What did you think of One Italian Summer? Share your thoughts in the comment section below!
---
The above links are affiliate links. I receive a very small percentage from each item you purchase via these link, which is at no extra cost to you. If you are thinking about purchasing the book, please think about using one of the links. All money received goes back into the blog and helps to keep it running. Thank you.
Like us on Facebook – Tweet us on Twitter – Pin us on Pinterest