Monty and the Land of the Dinodogs by M.T. Sanders – Book Review
Monty and the Land of the Dinodogs by M.T. Sanders – Book Review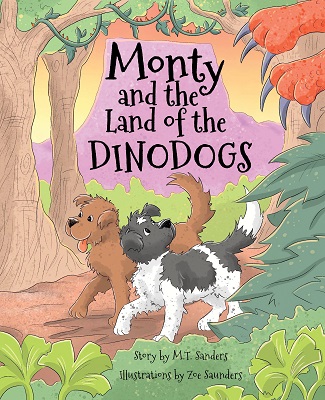 Monty and the Land of the Dinodogs
Author – M.T. Sanders
Pages – 28
Released – 25th April 2020
ISBN-13 – 978-1913071608
Format – paperback
Review by – Stacey
Rating – 5 Stars
I received a free copy of this book.
This post contains affiliate links.


When Cookie disappears on a walk through the woods Monty is suspicious about what she's up to. When he catches up with her she is clambering inside a long-forgotten machine hidden in the undergrowth.
He follows her in case she gets in trouble but when she pushes a button inside it triggers a trip back in time…..
Welcome to the land of the Dinodogs

Whilst out on a walk in the woods Monty and Cookie come across a time-machine. Cookie can't help climbing in and so Monty follows but soon the door locks and Cookie is pressing buttons.
The machine whizzes the dogs back in time to the land of the Dinodogs, but can they get back home again, or are they stuck in the past forever?
Just like all the other books in the Monty the Dog series, Monty and the Land of the Dinodogs is a truly wonderful read. It is filled with fun and adventure and features some marvellous and perfectly names Dinodogs that will make kids giggle.
The book is written in a rhyming format and the illustrations by artist Zoe Saunders are absolutely beautiful and bring the plot to life. I can see young children loving this book as each page has so much happening within it and what child doesn't like a book about dogs.
The ending is perfect too and came as a surprise to me. The book is only available on the author's website (link below) and comes signed and with ink-paws too.
Book Reviewer – Stacey
---
Purchase online from:
---
About the Author
I'm Mark
Being an author has been a lifelong dream of mine and I am loving writing stories that children and adults enjoy reading. It's fair to say I came to this late in life after spending my working life as a zookeeper and later as a football coach.





---
What did you think of Monty and the Land of the Dinodogs? Share your thoughts in the comment section below!
---
The above links are affiliate links. I receive a very small percentage from each item you purchase via these link, which is at no extra cost to you. If you are thinking about purchasing the book, please think about using one of the links. All money received goes back into the blog and helps to keep it running. Thank you.
Like us on Facebook – Tweet us on Twitter – Pin us on Pinterest