Millie and the Lost Colours by Erika Deery – Book Review
Millie and the Lost Colours by Erika Deery – Book Review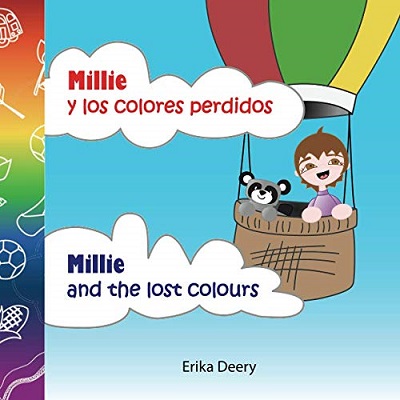 Millie and the Lost Colours
Author – Erika Deery
Publisher – BLUE SLED
Release Date – 5th November 2020
Pages – 40
ISBN 13 – 978-0648429128
Format – ebook, paperback, hardcover
Star Rating – 4
I received a free copy of this book.
This post contains affiliate links.

Synopsis
Millie and the lost colours is a bilingual English-Spanish book that will foster children's imagination and creativity.
Millie and Mr Raccoon discover the world outside has turned completely grey. When they find a mysterious treasure box and a map, they set off on a spectacular adventure! Can they find the colours of the world? Or will the world stay grey forever?
In this book, children will visit countries like England, the Netherlands, Kenya, Brazil, Mexico, India, and Japan in an exciting scavenger hunt for objects of different colours.
In addition to learning vocabulary in English and Spanish, children will:
Learn geography and the names of different countries around the world.
Learn the colours of the rainbow.
Learn about iconic places in different countries through beautiful illustrations.
Learn vocabulary and the use of adjectives in a sentence.
And most importantly, children will enjoy quality time by reading with you.
Millie and the Lost Colours is a bilingual children's storybook written in both English and Spanish. Join Millie and Mr Raccoon as they travel to different countries in their hot air balloon trying to find the missing colours after the world turns grey.
The book opens with Millie and Mr Raccoon heading out to play but when they open their front door the outside is all grey. From thereon each page is illustrated with grey pictures which emphasises how the world has gone dark. Each also contains just a splash of colour as they locate different ones in different countries including, the UK, Netherlands, Japan, Mexico, Brazil, India, and Kenya.
I love books that educate without children noticing and this book does just that. From children learning Spanish to seeing where different countries are on the map and visiting them. I would have loved the author to have taken her story just a little bit further when she has the friends visiting countries by naming items in the places they land. For example, when they visit the UK they locate the red they need next to a river. I would have loved the author to say next to the river Thames, which it was. Or in Brazil rather than a generic carnival mention the green was located near the Rio Carnival.
Overall, this is a sweet, fun, adorable book that I'm sure young readers will love. It is a gentle introduction to Spanish or English, depending on the reader's native tongue. It is also great to see that there are more books featuring Millie.
---
Purchase Online:
Erika Deery

Erika Deery was born and raised in Mexico andhas called Australia home for over a decade. She has always enjoyed creating characters and giving them a personality. In 2014, she wrote 'Millie va al espacio/Millie goes to space' while travelling from Australia to Mexico with her then 6-month-old daughter. It helped a great deal to pass the time on the flight to imagine the adventures she might have gotten up to on a long-haul flight. This was a bilingual book that could be read in English and Spanish.
From there, the Millie Books series was born and two more stories have been published. Erika not only wants kids to hear or read stories in English and Spanish. She also wants to give them opportunity to see themselves as someone who can have exciting adventures and be whatever they want to be. Through her books, Erika wants to foster children's sense of curiosity, exploration and imagination.
Author Links:
---
The above links are affiliate links. I receive a very small percentage from each item you purchase via these links, which is at no extra cost to you. If you are thinking about purchasing the book, please think about using one of the links. All money received goes back into the blog and helps to keep it running. Thank you.