Little Chef by Suzanne Rothman – Book Review
Little Chef by Suzanne Rothman – Book Review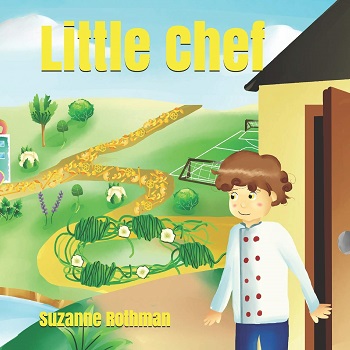 Little Chef
Author – Suzanne Rothman
Pages – 39
Released – 12th September 2015
ISBN-13 – 978-0692533840
Format – ebook, paperback
Rating – 3.5 Stars
I received a free copy of this book.
This post contains affiliate links.


Synopsis
A book about overcoming a tough day through the eyes of a foodie. 2 Activities inside! What would it be like to live in a gigantic picnic basket?
The splendor of growing up doesn't always follow a perfect recipe and as Little Chef finds out, not every hour is as sweet as it is sour. Little Chef compares life to food and learns to toss 5 simple ingredients into the mix of every day. From the author of The Thunder Maker series and In That Very Spot unfolds a funny tale addressing school age themes.
Find the Differences Activity & a Create your Own Plate Activity inside. Plus, who can find the Author's dog hidden in the story?
Little Chef is a colourful, foodie book about a young boy who feels like he is living inside a giant picnic basket. His day has ups and downs. Sometimes he feels sluggish like Peanut Butter and Jam sandwiches, other times he feels happy as a flaky croissant moon.
The story is all about how to overcome a bad day via the medium of food. The story was pleasant enough, though it did start to drag at about 24 pages in, there was just so much that had happened in Little Chef's life that it became overwhelming, especially with the bad times he was having.
The book is beautifully illustrated with computer-generated images that really emphasise the food Little Chef was thinking about as metaphors to what was going on in his life.
It is a decent read and one that will have children scouring the illustrations looking for the author's dog that she has hidden within one of them. There are also activities to complete at the back of the book too.
Purchase Online From:
---
What did you think of 'Little Chef'? Share your thoughts in the comment section below!
---
The above links are affiliate links. I receive a very small percentage from each item you purchase via these link, which is at no extra cost to you. If you are thinking about purchasing the book, please think about using one of the links. All money received goes back into the blog and helps to keep it running. Thank you.
Like us on Facebook – Tweet us on Twitter – Pin us on Pinterest – Join us on Instagram