Our Very Own Dog by Amanda McCardie – Book Review
Our Very Own Dog by Amanda McCardie – Book Review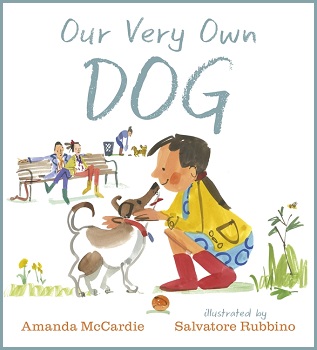 Our Very Own Dog: Taking Care of Your First Pet
Author – Amanda McCardie
Publisher – Walker Books
Pages – 32
Release Date – 6th October 2016
ISBN-13 – 978-1406356205
Format – hardcover
Reviewer – Stacey
I received a free copy of this book
Post Contains Affiliate Links

With charming illustrations from Salvatore Rubbino, this delightful non-fiction picture book tells the story of a rescue dog.
Sophie is a boisterous and lovable Jack Russell, brought home from a rescue centre. The book follows her delightful adventures: join Sophie and her new family as she learns how to respond how to orders such as "sit" and "stay", is taken for walks in the park where she encounters other dogs and accidentally wins a dog show!
The smaller caption text gives readers information about feeding and grooming your dog, different dog breeds, communication and training, and how dogs respond to human voices. The back matter includes a helpful index and bibliography.

Our Very Own Dog, is the perfect book for children who are asking for a pet dog, or families with children who are thinking about buying a dog, to read together.
We meet Sophie the dog, who until recently was living at a dogs home. She moves in with her new owners and over time learns to trust them. The book tells you all the wonderful things that dogs get up to, and need, in a fun and engaging manner. There are also useful tips and factual information on each page for children to learn about caring for a dog.
At the back of the book is an index with a list of doggy words, and where you can find them in the story. There are also a few words of advice from the author, and some book recommendations on looking after dogs.
Whilst the illustrations look basic, they are still beautiful and eye-catching, and clearly stand out. My only niggle with the book is that we meet the mum, dad and 4 year old girl of the family, but we are never told any names, and the book was all about Sophie the dog. I felt there needed to be a little more about the family, if not at least the little girl who is telling you about Sophie.
Book Reviewed by Stacey
Purchase Links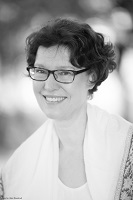 As a child
I was born in Leamington, Warwickshire. One of my earliest memories is that we had lots of hedgehogs living at the bottom of the garden. Sophie, the Jack Russell in OUR VERY OWN DOG, joined my family in Leamington. We moved to Gloucestershire not long afterwards. That's where I spent the rest of my childhood.
As an adult
I went to a school that had more boys in it than girls. English was my favourite subject, and after school I studied English at Oxford. I wrote endless poems and stories as a child, but didn't start to write again until I was in my thirties.
As an artist
I like to write on a table that looks out into the garden, especially if there's a blackbird outside. I also like writing on trains, because I find the noise and rhythm help. I work a lot on the computer, but I work more freely when I write by hand. My children's books are THE FROG BALLET (Julia MacRae, 1997), which won a UK Reading Association Award; DAVY AND SNAKE (Red Fox, 2000); A BOOK OF FEELINGS (Walker Books, 2015), shortlisted for the SLA Information Book Award, 2016; and OUR VERY OWN DOG (soon to be published by Walker Books, 2016).