Carrots Don't Grow on Trees! by Rob Keeley – Book Review
Carrots Don't Grow on Trees! by Rob Keeley – Book Review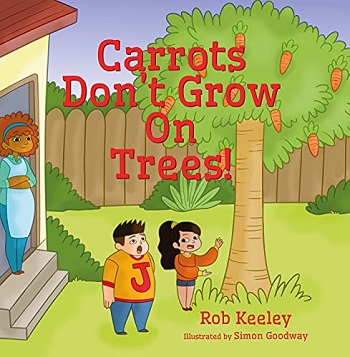 Carrots Don't Grow on Trees!
Author – Rob Keeley
Illustrator – Simon Goodway
Publisher – Matador
Pages – 19
Released – 28th November 2021
ISBN-13 – 978-1803130262
Format – ebook, paperback
Rating – 4 Stars
I received a free copy of this book.
This post contains affiliate links.


Synopsis
Lily loves eating fruit and vegetables – but is tricked by Jordan, who tells her that carrots grow on trees.
With the help of her Mum, some healthy eating and a box of elastic bands, Lily sets out to teach Jordan a lesson…
Carrots Don't Grow On Trees! is a bright, colourful and funny story, told entirely in dialogue and pictures, and takes a fun and compassionate approach to dealing with teasing at school, as well as promoting healthy eating.
Rob Keeley's second picture book sees him reunited with illustrator Simon Goodway, following their previous successes with My Favourite People and The Treasure in the Tower.
Carrots Don't Grow on Trees! is a young children's picture book. Within the story, we meet Jordan who is trying to convince one of his classmates, Lily, that carrots grow on trees. She doesn't believe him but when Lily asks the teacher if they do Jordan makes out that he tried to tell her that they don't grow on trees.
When she arrives home Lily is upset and her mum has a great idea, but first, she will need to find the elastic bands.
As books go on teaching children about teasing this story is very mild. A child tells another that carrots grow on trees to try to make her look silly by believing him, but she doesn't believe him yet still gets upset – I was a little confused as to what there was to be upset about.
I'm not sure I would have dealt with the situation the same way the mother in the story did, as I would have just told my child to forget about it, but I do like the mother's thinking and her imagination.
The illustrations are colourful, bright, and joyful. The story is very short and to the point. I like that the author has included a list of suggestive activities for each page at the back.
Overall, it is a sweet book that is a quick read and will put a smile on a child's face.
Purchase Online From:
---
What did you think of 'Carrots Don't Grow on Trees!'? Share your thoughts in the comment section below!
---
The above links are affiliate links. I receive a very small percentage from each item you purchase via these links, which is at no extra cost to you. If you are thinking about purchasing the book, please think about using one of the links. All money received goes back into the blog and helps to keep it running. Thank you.
Like us on Facebook – Tweet us on Twitter – Pin us on Pinterest – Join us on Instagram