Blaze Returns by Bill Runner – Promo Post
Blaze Returns by Bill Runner – Promo Post
AD – Today on the blog we welcome author Bill Runner, with his Promotional Post for his new book 'Blaze Returns', which was released on 29th November 2021. Check out the book, watch the trailer, and read an extract below.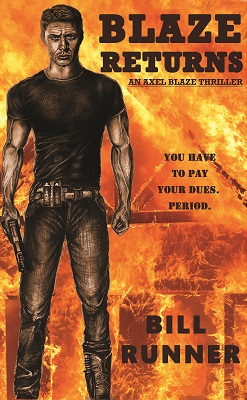 Blaze Returns
Author – Bill Runner
Publisher – Runner House Books
Pages – 330
Release Date – 29th November 2021
ISBN 13 – 978-1739832506
Format – ebook, paperback

"I wasn't expecting trouble when I pulled off the highway."
Ex-deputy US Marshal Axel Blaze is doing what he knows best – dealing with trouble. Ten years in the special forces and five years in the US Marshals have made Blaze a trained investigator and expert in combat.
Blaze does not fight his opponents; he puts them down. He strikes first. And hard. Takes them out. Fast.
Deputy Marshal Carter has gone missing in Little Butte, Nevada. The Dawsons own the town. The Mexican cartel is moving in on their meth business. A gang war is coming to town. Director Flynn asks Blaze to return for one last assignment.
It is up to Blaze to find Carter before all hell breaks loose.
---
What Reviewers' are Saying
It's an all-out action fest – 5 Stars
It will keep you on the edge of your seat from first page to last! – 5 Stars
The more I read, the more I got addicted to the storyline – 5 Stars

---
Extract
"Don't push it, pal. You've got no beef with me. You don't want to be doing this." I couldn't help menace entering my voice. A confused look appeared on his face.
The man looked back towards the hulk. Bad move.
I rose explosively from my chair, grabbing his wrist with one hand, and the gun along with his trapped trigger finger with the other. I twisted the gun forcefully outward and upward. There were almost simultaneous cracks of bones snapping as his trigger finger broke, followed by his wrist. The man yelped.
I slammed the man's broken wrist onto the table – hand flat, palm facing up. I grabbed the knife and slammed it hard through his palm. 4.8 inches of razor-sharp steel sliced through bone and flesh and got firmly embedded in the wood of the table, impaling his hand. At the same time, I pushed him slightly away and smashed my knee upwards in a roundhouse motion, just below the back of his elbow. There was a sickening crunch as ligaments and bones snapped. The man howled in agony.
In four seconds, the man went from an armed threat to a broken, contorted mess. It was time to face the hulk.
---
---
Purchase Online From:
---
Share your thoughts on 'Blaze Returns' in the comment section below!
---
This is a sponsored post.
Like us on Facebook – Tweet us on Twitter – Pin us on Pinterest