The City of Secret Rivers by Jacob Sager Weinstein – Book Review
The City of Secret Rivers by Jacob Sager Weinstein – Book Review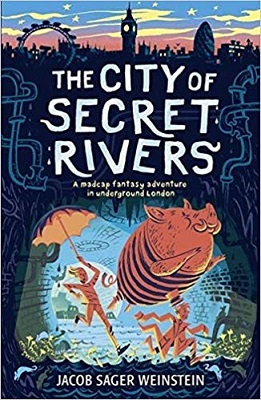 The City of Secret Rivers
Author – Jacob Sager Weinstein
Publisher – Walker Books
Pages – 352
Released – 1st March 2018
ISBN-13 – 978-1406378382
Format – ebook, paperback, hardcover
Review by – Stacey
Rating – 4 Stars
I received a free copy of this book.
This post contains affiliate links.


An exciting subterranean London adventure, the first in a middle-grade trilogy.
Hyacinth Hayward has recently arrived from America and is having difficulty adjusting to her new surroundings, especially being in the sole company of her eccentric mother. Everything feels strange. Very strange. And it gets stranger the day she accidentally unleashes the power of a secret river running through London.
To prevent a second Great Fire, Hyacinth needs to retrieve a single, magically charged drop of water from somewhere in the city sewer system. Along the way she encounters an eclectic cast of characters – the shambling, monstrous Saltpetre Men who kidnap her mother, the Toshers who battle for control of magical artefacts and a giant pig with whom she has a tea party.
The clock is ticking – will she figure out who to trust?

Hyacinth and her mother Cleo have come from living in America to move to the UK. For the time being, they are staying with Cleo's sister. However, when they arrive at her flat on their first day they discover she has had to work away for a while and so they have the place to themselves.
Hyacinth can't understand why the water in the UK comes out of two taps, you can either have it too hot or too cold but never just right unless you put the plug in and mix the water in the basin. Fed up of sore, chapped hands from the water she arranges a plumber to come and change the taps to a mixer unit, little did she know that by crossing the two streams of water she will unleash a terrible disaster on London and that a naughty water droplet would escape and she has to get it back or she will never see her mother again.
The City of Secret Rivers is the first book in a middle-grade series featuring Hyacinth and her gang of strange and unusual friends who are helping to stop a major disaster. You see the water under the city of London is magical and to stop it being used for bad some measures have been put in place such as keeping the water separate and special runes which look like an upside-down image of Sherlock Holmes – In fact in the story Sherlock was created to protect an area of London that is very magical.
The book is a whole lot of fun and with mentions to items and people from history and modern times Children will be able to use these visual clues to bring the story to life.
It is a strange book but that's what I enjoyed the most, it doesn't have any of the normal traits of middle-grade books, it isn't set in school setting like a lot of them, this has a big portion of the book set in the sewers below London, in all its smelly, dirty, glory.
There is an element of magic to the story, not just the water, items such as lost property umbrellas too – you will have to read to find out why.
The book has an air of Mary Poppins to it which I loved as Hyacinth has help from one of her neighbours who lives in their apartment building and her job was to protect the magic so it is her job to help Hyacinth get that water droplet back. She speaks very poshly and her manners and attitude are what reminds me of Mary Poppins.
Overall The City of Secret Rivers is a wonderful, amusing adventure story and with the second book already out I can't wait to pick it up and continue my journey with Hyacinth.
Book Reviewer – Stacey
---
Purchase online from:
---
About the Author

Jacob Sager Weinstein's work has appeared in The New Yorker and The Onion, and he has written for HBO and the BBC as well. He lives in London with his wife and children.
In 2005, during a walk along the Thames, he had the first stirrings of an idea that would eventually become Hyacinth & The Secrets Beneath. After more than a decade of writing and rewriting, the book was published by Random House in 2017, and will be followed by two sequels.
His first picture book is called "Lyric McKerrigan, Secret Librarian," and it will be published in 2018 by Clarion. It will be illustrated by Caldecott honoree Vera Brosgol.
Jacob has also spent time as stay-at-home dad, and he's proud to say that the one time he wasn't paying attention and the buggy got blown into the Regent's Park Duck Pond, neither of his children was in it. He hasn't yet received his Father of The Year Trophy for that achievement, but he's pretty sure it must have gotten lost in the mail.




---
What did you think of The City of Secret Rivers? Share your thoughts in the comment section below!
---
The above links are affiliate links. I receive a very small percentage from each item you purchase via these link, which is at no extra cost to you. If you are thinking about purchasing the book, please think about using one of the links. All money received goes back into the blog and helps to keep it running. Thank you.