The Perfect Shelter by Clare Helen Welsh – Book Review
The Perfect Shelter by Clare Helen Welsh – Book Review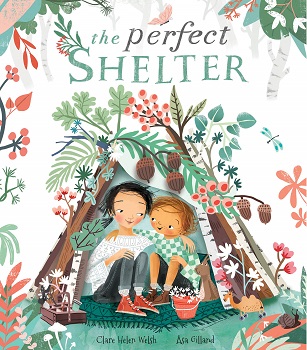 The Perfect Shelter
Author – Clare Helen Welsh
Illustrator – Åsa Gilland
Publisher – Little Tiger Press
Pages – 32
Released – 25th June 2020
ISBN-13 – 978-1788815789
Format – paperback, hardcover
Rating – 5 Stars
I received a free copy of this book.
This post contains affiliate links.


Synopsis
At first nobody knew. Then they told me my sister was sick.
But together we'll ride out the storms. And today is the perfect day to build a shelter, and be together. A powerful and uplifting story, exploring the emotions we feel when someone we love has a serious illness.
Two sisters love to play together and their favourite thing to do is build shelters where they can be together. That is until the older sister gets sick. The younger one doesn't understand why they can't play together at the moment. When she wants to do something her sister is either at the doctor's or having an operation. She is angry and confused.
The Perfect Shelter to me felt like it was a story focussing on what a sibling of a sick child goes through emotionally using the shelter the sisters had made at the start of the book to emphasise her feelings such as when she is angry and sad the shelter is destroyed.
I did feel sadness for the younger daughter who was feeling a whole array of emotions because she didn't know what was happening and was being kept in the dark about her sister being very sick, something that I have seen time and time again in real life. Parents often try to protect their other children from the horrid and heartbreaking situations that they are having to deal with, they often don't think that a child could cope knowing the truth, but sometimes by not telling the child anything you make the situation worse as children pick up on others emotions and they do notice that their sibling is sick, thus making their emotions go into overdrive and them unable to deal with how they feel.
The book is beautifully written and was a slow, emotionally driven picture book with carefully chosen words and illustrations in comforting colours that complimented the story. We are never told what illness the older child has but the illustrations point you in the direction of cancer. This is a tender tale that was very touching and heartwarming.
Purchase Online From:
---
What did you think of 'The Perfect Shelter'? Share your thoughts in the comment section below!
---
The above links are affiliate links. I receive a very small percentage from each item you purchase via these link, which is at no extra cost to you. If you are thinking about purchasing the book, please think about using one of the links. All money received goes back into the blog and helps to keep it running. Thank you.
Like us on Facebook – Tweet us on Twitter – Pin us on Pinterest – Join us on Instagram