Lady in Red by Tessa Buckley – Book Review
Lady in Red by Tessa Buckley – Book Review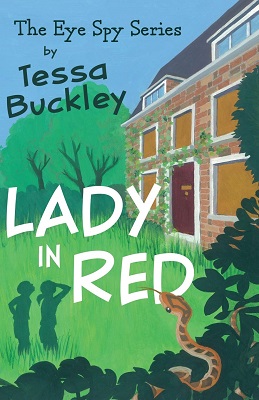 Lady in Red
The Eye Spy Series Book Three
Author – Tessa Buckley
Publisher – Troubador Publishing Ltd
Pages – 178
Released – 16th October 2019
ISBN-13 – 978-1838591694
Format – ebook, paperback
Review by – Stacey
Rating – 4 Stars
I received a free copy of this book.
This post contains affiliate links.


This is the third book in the Eye Spy series about Alex and Donna Macintyre and their detective service, Eye Spy Investigations.
Alex is afraid of snakes, so when his sister Donna befriends Jake, an Australian boy with a pet snake called Queenie, he isn't happy. Jake is staying with the O'Connor family at Acacia Villa, once the home of Victorian artist, Gabriel Pascoe. When the artist's great grandson, Fred Pascoe, tells the twins how Gabriel Pascoe's most famous painting, Lady in Red, went missing seventy years ago, they volunteer to try and find out what happened to it.
While their father, an inventor, is preparing for the official launch of his most successful invention, a search and rescue robot, Alex and Donna pursue their search for the missing masterpiece. Then Acacia Villa itself is threatened with demolition. It looks as if their new friends will lose their home, and Holcombe Bay will lose an important historic building. They suspect that Mr Mortimer, the man who wants to demolish Acacia Villa, may know the true location of Lady in Red. But he is a friend of the twins' mother, and the godfather of their baby half-sister, Sophie. Criticising him could open up family rifts, which have only recently healed.
Then Queenie the snake goes missing, and a train of events is set in motion which leads the twins and their new friends into terrible danger. Help comes from an unexpected quarter, but will it arrive too late? Can Alex overcome his fear of snakes? And will the twins ever be able to return Lady in Red to its rightful owner?

Siblings Alex and Donna are enjoying the last day of school, that is until Jake, an Australian boy is invited to their last science lesson with his pet snake, Queenie. Alex is afraid of snakes but Donna loves them. When the day is over, Donna asks Jake if they can go to his house to learn more about the snake, Alex is unimpressed but agrees to go along.
The place where Jake lives is an old house that has been split into two flats. Under where he lives is an artist called Fred Pascoe. The children are introduced to Fred and he explains about his Great Grandfather and his missing painting called The Lady in Red.
The children offer to help Fred find the painting but not everything is as straightforward as they would have hoped, especially when their family is brought into the search.
Lady in Red is the third book in the Eye Spy series. I haven't read the first two and whilst I agree that it can be read as a standalone you do miss getting to know the children and what makes them tick or their past cases.
There were a few moments in the book I was unsure of, such as the children heading off to a stranger's home who they have only just met. A child probably won't think twice about this, but as a grown-up and a mother, it did ring alarm bells for me.
The plot is exciting and weaves itself amongst many subplots which all work together to bring the book to a nice conclusion with plenty of action on the way. The children are likeable and the setting realistic.
The book isn't overly long so it could be read in just a few sittings. It is very imaginative and will give the reader lots to enjoy. In my opinion, I would say read the first two books first, but as I stated above it can work as a standalone too.
Book Reviewer – Stacey
---
Purchase online from:
---
About the Author

When I was a child I was always scribbling away: I've still got a huge collection of stories, plays and comics in the attic from that time. Then in my teens I got distracted by exams, boys, and my first job, and eventually the writing tailed off. I had a successful career in architecture and design, and it wasn't until many years later, when my ten year old daughter complained that she couldn't find any good books to read, that it occurred to me to take up writing again.
I had recently had to give up my job due to health problems, so it seemed the ideal opportunity to fulfil an old ambition. Since then I've written many articles on health, nutrition and family history, two books on nutritional therapy, and three children's novels.


---
What did you think of Lady in Red? Share your thoughts in the comment section below!
---
The above links are affiliate links. I receive a very small percentage from each item you purchase via these link, which is at no extra cost to you. If you are thinking about purchasing the book, please think about using one of the links. All money received goes back into the blog and helps to keep it running. Thank you.
Like us on Facebook – Tweet us on Twitter – Pin us on Pinterest