Finn the Fish and his Funny Family by Lydia Pettit – Book Review
Finn the Fish and his Funny Family by Lydia Pettit – Book Review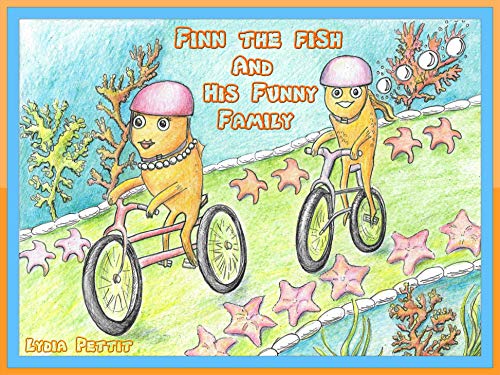 Finn the Fish and his Funny Family
Author – Lydia Pettit
Pages – 13
Released – 3rd October 2020
Format – ebook
Review by – Stacey
Rating – 4 Stars
I received a free copy of this book.
This post contains affiliate links.


Can you imagine if Finn the fish cycled with mommy to school on a bicycle?
And can you imagine if Finn and daddy's favourite thing was baking chocolate cake in the kitchen?
And can you imagine if fish were just like people, doing everything just like us?
Well that would be a funny thing for fish to do!

Finn the Fish and his Funny Family is a young children's electronic picture book. It is about the reader using their imagination to think about how funny it would be if there was a family of fish who lived in a pink shiny castle and they did things just like humans do.
The reader is asked to imagine Finn's daddy going to work, his mummy taking him to the park after he has been to school, plus many more moments throughout the day.
There are brightly coloured illustrations that go along with each page and show the reader exactly what is happening. The last line of each page is the same to help with repetitive reading for young/new readers.
The story is a lot of fun and is only short. I can see it giving children a giggle as they use their imagination to think about fish behaving like humans. I like the final sentence in the book about children closing their eyes at night and using their imagination.
My only disappointment is that the book is in ebook format only. I'm sure that children these days most likely read a lot of books on an e-reader, but I'm not a lover of children's books on electronic devices, I believe they should have the physical item in their hands, to sit and physically turn the pages, but this is just my preference.
Book Reviewer – Stacey
---
Purchase online from:
---
About the Author

Lydia Pettit and her three sisters were born in Cape Town South Africa, to an Italian mother and British father. She left Cape town aged twenty, living in County Clare Ireland for the next fourteen years.
She was first drawn to express herself artistically in her early twenties – living amongst the mighty musicians, artists and the warm people of a small rural coastal village. She now lives in London.




---
What did you think of Finn the Fish and his Funny Family? Share your thoughts in the comment section below!
---
The above links are affiliate links. I receive a very small percentage from each item you purchase via these link, which is at no extra cost to you. If you are thinking about purchasing the book, please think about using one of the links. All money received goes back into the blog and helps to keep it running. Thank you.
Like us on Facebook – Tweet us on Twitter – Pin us on Pinterest