The Monster in My Basement by Dave Preston – Book Review
The Monster in My Basement by Dave Preston – Book Review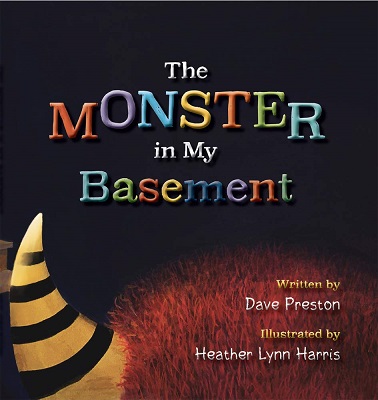 The Monster in My Basement
Author – Dave Preston
Illustrator – Heather Lynn Harris
Publisher – CrissCross AppleSauce
Pages – 40
Released – 18th September 2020
ISBN-13 – 978-1942483809
Format – ebook, paperback, hardcover
Review by – Stacey
Rating – 4 Stars
I received a free copy of this book.
This post contains affiliate links.


There's a monster in Dave's basement! His name is Howard and he's very hungry. Howard invites Dave to dinner. But will Dave eat dinner or BE dinner? The thought makes Dave shake a little bit, shake a little bit, shake, shake, shake, shake, shake. Has Dave made a big mistake?
This heartwarming story about friendship and first impressions began as a song. The music and lyrics are included in the book, and a QR code invites readers to join the author in a rousing rendition of the clever song that gets kids up and shake-shake-shaking!

Whilst playing little Dave comes across a monster in his basement that looks all sad and lonely. Dave asks the monster what is wrong and he tells him that he is hungry and would like a bite to eat.
Dave wonders what kind of food the monster would like. He then has a thought that the monster might like to eat him. He tries to back away but the monster grabs his hand and tells him he is taking him to his cave. Dave is scared. Is the monster really going to eat him?
The Monster in my Basement is a short, fun picture book perfect for children at this time of year. It has bright, colourful, full-page illustrations that are so adorable, and whilst this is a book about a little boy and a monster, children won't be scared by how he looks with his red fluffy skin and zebra horns.
The story is very sweet and even comes with music at the end that can be played or just sung. Plus, there is a QR code in which children (via an adult) can listen to the song and dance along.
Overall, this is a cute book that has a happy ending so you don't need to worry about your children being scared. I get that this is a work of fiction and a bit of fun but it might be a good idea to explain to children when you read the book that they should never go off with a stranger – even a monster stranger!! just like Dave does.
Book Reviewer – Stacey
---
Purchase online from:
---
What did you think of The Monster in My Basement? Share your thoughts in the comment section below!
---
The above links are affiliate links. I receive a very small percentage from each item you purchase via these link, which is at no extra cost to you. If you are thinking about purchasing the book, please think about using one of the links. All money received goes back into the blog and helps to keep it running. Thank you.
Like us on Facebook – Tweet us on Twitter – Pin us on Pinterest