Sports Legends by Rick Broadbent – Book Review
Sports Legends by Rick Broadbent – Book Review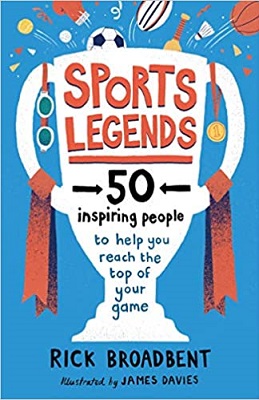 Sports Legends
50 Inspiring People to Help You Reach the Top of Your Game
Author – Rick Broadbent
Illustrator – James Davies
Publisher – Walker Books
Pages – 272
Released – 3rd June 2021
ISBN-13 – 978-1406397123
Format – ebook, paperback
Rating – 5 Stars
I received a free copy of this book.
This post contains affiliate links.


Synopsis
Get inspired to reach the top of your game with 50 incredible true stories of sporting legends.
Award-winning journalist Rick Broadbent has interviewed some of the greatest sporting legends of our time. In this gripping collection of 50 true stories, he shares the most exciting and jaw-dropping accounts of success, failure, injury and bravery in sport, which will in turn inspire kids to find the confidence and resilience they need to reach the top of their game.
An ideal book for any young sports fan who enjoys reading about their favourite heroes, such as Lionel Messi, Usain Bolt and Serena Williams.
Sports Legends is a non-fiction book for young sports fans especially those who could do with some motivation in their lives. The book features fifty different sports personalities, most I had heard of like Adam Peaty, Anthony Joshua, and Roger Bannister. There were just a few who I didn't recognise, such as Pete Reed, Ruqsana Begum, and Bryony Frost.
These sports legends have one thing in common, they have all had to overcome something to be at the top of their game.
The book is split into six sections: Facing Fear, Overcoming Failure, Dare to be Different, Growth Mindset, The Confidence Trick, and Never Give Up. In these sections, we get to meet four sports stars and a small bio of their lives, plus what they did to be successful in their chosen career. You might be thinking well six sections and four stars in each equals twenty-four sports legends, and you would be right. However, throughout the book the author also touches on other stars too but not in as much detail, making the fifty.
We hear from stars such as footballer Lionel Messi who as a child had a hormone deficiency making him smaller than his peers. He needed injections to grow but at $1,000 for a 45-day programme his father couldn't afford them, but the football club he was at helped him out for a little while, and then he went for trials at Barcelona where the coaches and players thought he was too small until they saw him play. He is still quite small but I don't think his height or having to have hormone injections has stopped him from being at the top of his game.
The book is certainly inspirational. It hopefully will show children that with determination and the right mindset they too can excel at what they want to do, whether that is in sport or a career choice. The book empowers children. It is one of those books that they can dip back into when they need a little motivation or a pick-me-up. It is written in a kid-friendly way and also includes lots of fun illustrations to give them a giggle.
Purchase Online From:
---
What did you think of 'Sports Legends'? Share your thoughts in the comment section below!
---
The above links are affiliate links. I receive a very small percentage from each item you purchase via these link, which is at no extra cost to you. If you are thinking about purchasing the book, please think about using one of the links. All money received goes back into the blog and helps to keep it running. Thank you.
Like us on Facebook – Tweet us on Twitter – Pin us on Pinterest – Join us on Instagram