Afraid of the Dark by Sarah Shaffi & Isabel Otter – Book Review
Afraid of the Dark by Sarah Shaffi & Isabel Otter – Book Review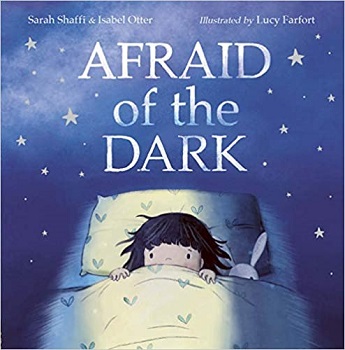 Afraid of the Dark
Author – Sarah Shaffi & Isabel Otter
Illustrator – Lucy Farfort
Publisher – Caterpillar Books
Pages – 32
Released – 1st October 2020
ISBN-13 – 978-1838910372
Format – paperback, hardcover
Rating – 4 Stars
I received a free copy of this book.
This post contains affiliate links.


Synopsis
Today we are moving house but my new room is strange and scary. I don't think I'll ever be able to sleep…
A gentle first experience story about new beginnings, friendship and finding ways to cope with fear.
Afraid of the Dark features a little girl called Amy who has just moved into a new house with her dad and their dog Pickle. Amy isn't so sure about the new house as it doesn't feel like home and she has trouble sleeping in her new bedroom as she can see shadow monsters.
I feel that Afraid of the Dark was much more than a book about a child being scared when it is nighttime and more about a young girl who has had to leave her home to move into a new one. The new house doesn't feel like home, she doesn't know anyone and her bedroom doesn't have any curtains at the window and so the light from the moon is shining into her room and making her items and the trees outside have funny shapes on her bedroom walls.
The story is very short with just a few words on each page. The plot is super sweet and you can't help feeling sorry for Amy and want to give her a cuddle and make everything better. The illustrations are divine. They are full-page and emphasise what is happening in Amy's life perfectly. I also love the story her father tells her to help her overcome her fear.
This is a beautiful book that would be perfect for a child moving into a new home or one that is frightened of the dark to help them understand that they are not alone.
On a side note. When my first child was moving into his own room my dad gave me a piece of advice. He told me to go into the room, set it up as you would do at night, so close the curtains, turn the lights off and get down to the level my son's bed would be and see what he would see. Could I see any light coming in through the curtains causing his toys to make strange shapes on the wall? Anything that could cause him to be scared I was to put in a cupboard. It is surprising what shape items shadows can make as the moon moves across the sky.
Purchase Online From:
---
What did you think of 'Afraid of the Dark'? Share your thoughts in the comment section below!
---
The above links are affiliate links. I receive a very small percentage from each item you purchase via these link, which is at no extra cost to you. If you are thinking about purchasing the book, please think about using one of the links. All money received goes back into the blog and helps to keep it running. Thank you.
Like us on Facebook – Tweet us on Twitter – Pin us on Pinterest – Join us on Instagram