Dance with Oti by Oti Mabuse – Book Review
Dance with Oti by Oti Mabuse – Book Review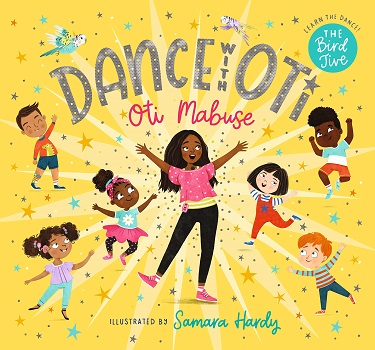 Dance with Oti: The Bird Jive
Author – Oti Mabuse
Illustrator – Samara Hardy
Publisher – Walker Books
Pages – 32
Released – 27th May 2021
ISBN-13 – 978-1406399967
Format – ebook, hardcover
Rating – 5 Stars
I received a free copy of this book.
This post contains affiliate links.


Synopsis
It's time for Oti's dance class! Join Oti in her dance studio and learn "The Bird Jive" in ten easy steps.
There are lots of children in Oti's dance class – and lots of feelings, too. Meet Fikile in her sparkly new shoes and Naira who is SUPER excited to get started! Gan is feeling a little worried about joining in whilst Martin can't wait to show his parents what he can do! But in the middle of their dance routine, an unexpected visitor disrupts the class. Not to fear, Oti is here! Soon they are back on track, getting ready for the performance of their lives.
Written by Strictly Come Dancing superstar Oti Mabuse, this debut picture book will dance into the hands of families who have loved watching Oti on-screen. It celebrates dance, movement and expressing your feelings – as well as teaching a short, simple 10-step dance routine.
Dance with Oti is a young children's picture book written by professional dancer Oti Mabuse. The story is about teaching children how to do the jive, as well as being about a group of children who have come to Oti's dance class and have a few problems and how polite and kind Oti is at helping them when they can't follow the dance moves, fall over, go the wrong way, etc. She lifts their confidence.
The book is a lot of fun. The dance moves are easy to follow throughout the story, plus there is a recap at the end and even a QR code to scan so you can watch the dance. I didn't think it would be that easy to follow dance moves in a book rather than on screen, however, they were well-illustrated and explained, plus the dance is quite a simple one.
Talking of the illustrations, these are bright, colourful, full-page, and showcase Oti and her class of children perfectly. There is so much to look at on each page.
I love how diverse the book is alongside having a mix of boys and girls plus confident children and those who are shy. I can see the readers following the dance moves, kicking their legs, wafting their hands, and twisting their middle, all whilst having a lot of fun.
Dance with Oti is a delightful book, one that I am hopeful children and their parents/guardians will enjoy reading together. It's not really a bedtime story due to the dance moves, but one that can be enjoyed throughout the day.
My tiny reservation about the book is that it comes in ebook format too and picture books don't tend to work well on a Kindle, especially a normal one (not a Fire), as they lack colour. So if you are going to purchase a copy, I would suggest getting a physical copy over an ebook.
Purchase Online From:
---
What did you think of 'Dance with Oti'? Share your thoughts in the comment section below!
---
The above links are affiliate links. I receive a very small percentage from each item you purchase via these link, which is at no extra cost to you. If you are thinking about purchasing the book, please think about using one of the links. All money received goes back into the blog and helps to keep it running. Thank you.
Like us on Facebook – Tweet us on Twitter – Pin us on Pinterest – Join us on Instagram