The Secret Life of Albert Entwistle by Matt Cain – Book Review
The Secret Life of Albert Entwistle by Matt Cain – Book Review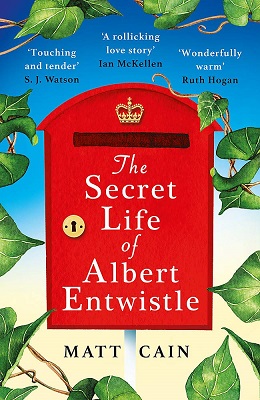 The Secret Life of Albert Entwistle
Author – Matt Cain
Publisher – Headline Review
Pages – 464
Released – 27th May 2021
ISBN-13 – 978-1472283443
Format – ebook, paperback, hardcover, audio
Rating – 5 Stars
I received a free copy of this book.
This post contains affiliate links.


Synopsis
ALBERT ENTWISTLE WAS A POSTMAN. It was one of the few things everyone knew about him. And it was one of the few things he was comfortable with people knowing.
64-year-old Albert Entwistle has been a postie in a quiet town in Northern England for all his life, living alone since the death of his mam 18 years ago. He keeps himself to himself. He always has. But he's just learned he'll be forced to retire at his next birthday. With no friends and nothing to look forward to, the lonely future he faces terrifies him. He realises it's finally time to be honest about who he is. He must learn to ask for what he wants. And he must find the courage to look for the man that, many years ago, he lost – but has never forgotten . . .
Join Albert as he sets out to find the long-lost love of his life, and has an unforgettable and completely life-affirming adventure on the way . . . This is a love story the likes of which you have never read before!
The Secret Life of Albert Entwistle is an amazing journey of lost love. Our title character sixty-four-year-old Postman Albert Entwistle and his friend George Atkinson fell in love as young boys in a time when gay men were not generally accepted in society, some fifty-plus years ago.
I loved the honest reflection of how life was back in the 1970s and the emotions looking back on those times really hit me hard.
My favourite character has got to be Albert, he had a determination that shone and after years of hiding and being alone was ready to fully embrace life. I also loved the young George. I could vividly imagine his flamboyant ways, singing, and dancing when the two met at the bunker.
The story kept me enthralled and I just loved the details and description of Albert's life, the way he became more open about himself, the sadness of his past but the happiness he found in his new friends Nicole and Edith, along with his work colleagues.
This was a definite page-turner as I couldn't get enough of Albert. I also found it infuriating and so sad reading how narrow-minded some people were in the past and glad that things have improved from the way they were, although we still have a long way to go in the fight for full acceptance from everyone.
The Secret Life of Albert Entwistle is a love story and a brilliantly written one too, well done Matt Cain. It felt uplifting and heart-warming. It was beautiful to watch Albert as he stopped hiding his sexuality from people and embraced it. I will certainly be recommending this book to all my family and friends.
Purchase Online From:
---
What did you think of 'The Secret Life of Albert Entwistle'? Share your thoughts in the comment section below!
---
The above links are affiliate links. I receive a very small percentage from each item you purchase via these link, which is at no extra cost to you. If you are thinking about purchasing the book, please think about using one of the links. All money received goes back into the blog and helps to keep it running. Thank you.
Like us on Facebook – Tweet us on Twitter – Pin us on Pinterest – Join us on Instagram